Three added to HES Hall of Fame
Three added to HES Hall of Fame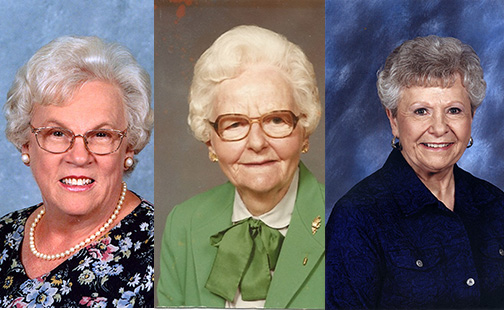 LEXINGTON, Ky.—
Three women with long, distinguished careers in education are the newest members of the University of Kentucky School of Human Environmental Sciences Hall of Fame.
The school is part of the UK College of Agriculture, Food and Environment, and each year it honors those who have positively impacted their profession, communities and the school. The induction ceremony is at 3:30 p.m. Oct. 16 at UK's Hilary J. Boone Center.
Inductees Linda Medlen Heaton and Ruth Hatchett Duncan each had a career in education spanning more than 30 years. The third inductee Mary Bell Vaughan will be inducted posthumously and had an education career that spanned 45 years.
"We are pleased to honor three inductees this year who have each had a lifetime of achievements and contributions," said Ann Vail, school director. "While each is different, all three have impacted the school and our profession in meaningful ways. We are grateful to each of them."
Heaton's career involved stints at several universities in a span of 36 years, including the University of Tennessee, Georgia Southern University, The Ohio State University and Missouri State University. However, her longest tenure was 24 years as a faculty member with the University of Kentucky Cooperative Extension Service. During her career, Heaton authored or co-authored eight refereed articles, more than 80 extension publications and more than 30 abstracts and reports. Her research endeavors received more than $870,000 in grant funding.
Heaton was one of the founders of the Kentucky Master Volunteer in Clothing Construction Program that has grown to include more than 100 trained volunteers. Prior to her retirement from UK, she was named a UK Fellow and established the James N. and Linda M. Heaton Master Volunteer in Clothing Education Endowment. She is an active leader in the National Association of Active and Retired Federal Employees, currently serving as the District 5 vice president.
A 1961 UK home economics graduate, Duncan spent the majority of her professional career teaching in Fayette County as a part-time instructor with then UK College of Human Environmental Sciences. She also taught sewing and tailoring with the Fayette County Schools' Adult Education Program, Lexington-Fayette Urban County Government Senior Citizens Center, Piece Goods Fabric Shop and Sandy's Sewing Center. Her teaching enabled several students to launch their own businesses, and she has personally used her talents to benefit many philanthropic endeavors.
Over the years, Duncan has served as president of the UK Woman's Club and president of the UK College of Human Environmental Sciences Alumni Association. She has also served extension as a 4-H leader and as a member of the Fayette County Extension Council.
Her numerous awards include UK Fellow, Erikson Society member, HES centennial laureate and outstanding alumna with the Bluegrass Area Ag and HES Alumni Association.
The late Mary Bell Vaughan received her bachelor's and master's degrees in home economics from the University of Kentucky in 1927 and 1936, respectively. She spent the first 11 years of her 45-year education career, teaching throughout Kentucky. In 1938, she was named the assistant director of home economics education for the Kentucky Department of Education. She was promoted to director in 1969 and served in that position for three years. While at the department, she played an instrumental role in organizing 88 chapters across the state of the former Future Homemakers of America, which is now the Family, Career and Community Leaders of America. Through her leadership, Kentucky received the first state charter from national FCCLA. She helped establish a FCCLA scholarship program to support outstanding Kentucky students majoring in family and consumer sciences. The program still exists today, and the top scholarship awarded each year is named in her honor.
---
Awards