Timber Harvesting Field Day Oct. 30
Timber Harvesting Field Day Oct. 30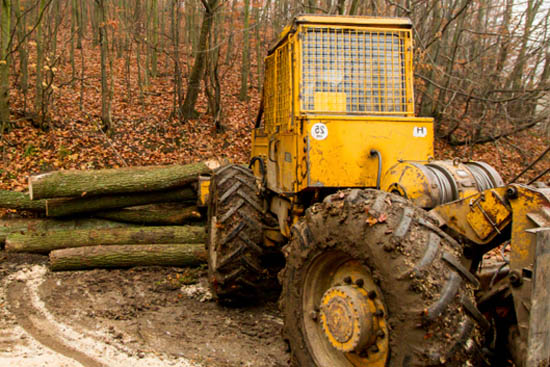 LEXINGTON, Ky.—
A forestry field day on Oct. 30 in Jackson will focus on managing and harvesting timber in Eastern Kentucky. Presented by the University of Kentucky Cooperative Extension Service, the four-hour event will provide Master Loggers and woodland owners with a wide range of pertinent information.
The terrain in Eastern Kentucky presents unique challenges for harvesting timber. Steep hillsides, narrow valleys and winding ribbons of roads can make logging more difficult than in other areas of the state. Understanding how such features can impact timber value can help landowners make the right decisions concerning timber sales. The field day will provide a mix of information for those wishing to sell and manage timber, as well as loggers who are cutting and hauling timber in Eastern Kentucky forests.
Loggers will demonstrate mechanized logging techniques on steep slopes.
"One of the most dangerous jobs in Eastern Kentucky is felling trees with a chainsaw," said Jeff Stringer, forestry professor in the UK College of Agriculture, Food and Environment. "Mechanized harvesting can work in Eastern Kentucky, and it can provide an increased level of safety to loggers. Further, the development of markets for lower grade and smaller material can best be accessed using mechanized equipment."
The field day also offers a unique opportunity to learn about forest certification; the property on Keene Fork Road where the event will take place is one of the few properties in Kentucky certified under the Forest Stewardship Council's program.
Other discussion topics are timber and log values; selling and marketing timber and protecting water quality.
Kentucky Master Loggers will receive three continuing education credits for attending.
Lunch will be provided, so preregistration for the free field day is requested by Oct. 24. Preregister by calling the Breathitt County Extension office at 606-666-8812 or UK Forestry Extension at 859-257-7597. Organizers also ask that participants bring a portable chair for lunch, as this is a field site. To reach the site, turn onto Highway 30W from Highway 15 at Jackson. Turn right onto Highway 52 toward Beattyville. Go 6.8 miles, going over a railroad crossing, then turn right onto Keene Fork Road. Signs will point toward the site.
The free field day is sponsored by UK Forestry Extension, local county extension offices, The Forestland Group, D & M Forestry, Kentucky Division of Forestry and Sizemore Logging.
---
Environment
Events
Extension
Forestry