Time for Kentuckians to take mosquito protection measures
Time for Kentuckians to take mosquito protection measures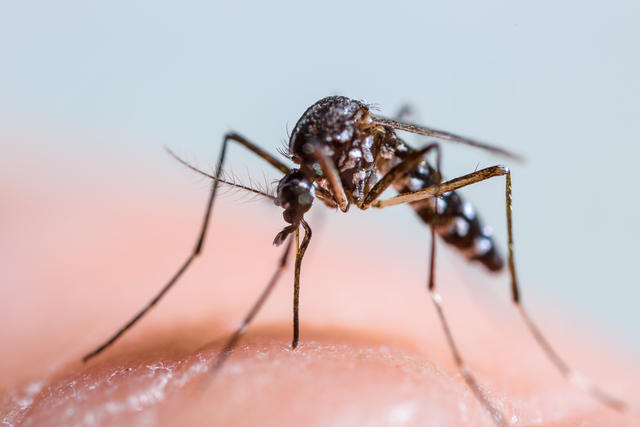 LEXINGTON, Ky.—
University of Kentucky entomologists have captured Asian tiger mosquitoes in the Central Kentucky area during the past few days and are encouraging Kentuckians to take measures to prevent mosquito bites.
"The Asian tiger mosquito is the most common mosquito in Kentucky. We are seeing it earlier than normal this year," said Grayson Brown, entomologist with the UK College of Agriculture, Food and Environment. "What's different this year is this mosquito is implicated as a possible carrier for Zika. Kentuckians who are concerned about Zika should start taking precautions."
The Asian tiger mosquito normally begins to appear in Central Kentucky in mid-June and populations begin to climb throughout the summer, peaking in late July, early August. The mosquitoes tend to arrive in Western Kentucky a little earlier and appear in Eastern Kentucky a little later than Central Kentucky. The mosquito is the primary carrier of canine heartworm.
"The Asian tiger mosquito is an opportunistic feeder and will feed on other things besides humans," said Lee Townsend, UK extension entomologist. "It tends to bite humans around the ankles, an area that is often overlooked when applying repellents."
The Asian tiger mosquito was found to transmit Zika in Mexico, but so far, no locally acquired Zika cases have been reported in the United States. Kentucky has six Zika cases, and all have been individuals who acquired Zika while traveling to other countries. The Aedes aegypti, or the yellow fever mosquito, is the mosquito that has been the known carrier of Zika in most of the cases in South America. Kentucky is on the northern edge of the Aedes aegyti range, and they typically appear much later in the summer.
Kentuckians can take the following measures to minimize their chances of getting bitten this summer:
·         Use Environmental Protection Agency-registered insect repellents. When used as directed, these repellents are proven safe and effective for pregnant and breastfeeding women.
·         Drain any standing water as it creates potential mosquito breeding sites. This includes bird baths, bottles and any other items with water-holding capacity like old tires or trash.
·         Fill in holes, depressions and puddles in yards.
·         Keep gutters in proper working order.
·         Make sure door and window screens are in good repair.
·         Stay indoors between 4 p.m. and 8 p.m. when mosquitoes are most active.
·         Wear long-sleeve shirts and pants when outdoors.
Individuals wanting additional information about mosquitoes in Kentucky should visit UK's Zika website at http://pest.ca.uky.edu/EXT/ZIKA/1kyzika.html. Additional information for women concerned about zika during pregnancy is available at http://www.cdc.gov/zika/pregnancy/protect-yourself.html.
---
Entomology
Extension