Time to repair, establish home lawns
Time to repair, establish home lawns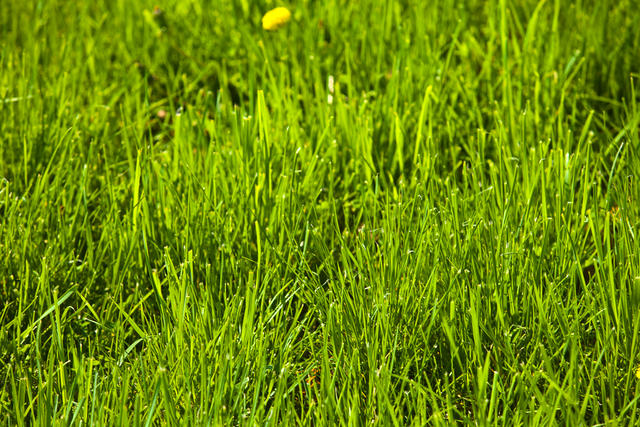 LEXINGTON, Ky.—
The first day of fall is upon us, and while the season is known for many things including the harvest, pumpkins and cooler weather, it's also the best time of the year to establish and reseed cool-season grasses, which are popular in Kentucky lawns.
"The ideal time to plant cool-season grasses like tall fescue and Kentucky bluegrass is from about the third week of August until the first of October," said Gregg Munshaw, extension turfgrass specialist in the University of Kentucky College of Agriculture, Food and Environment. "If we seed much later than Oct. 1, we don't always get good germination."
Individuals with yards that are in need of a renovation should make sure that intended planting areas are clear of existing vegetation, including weeds.
"The more competition that exists when the seeds begin to germinate, the poorer the seedlings will do," Munshaw said. "This may require the homeowner to remove the weeds by hand and/or make a herbicide application."
Those wanting to establish a new lawn should first till the soil and make a good seedbed, creating a desired shape for the lawn.
Whether renovating or establishing a lawn, homeowners should test their soil for any nutrient deficiencies before starting, as it is easier to apply large quantities of fertilizer or lime then without the fear of burning the new grass, he said.
After tilling in lime or fertilizer indicated by the soil test, homeowners should prepare the soil for seeding by rolling and lightly raking it. Depending upon the soil test results, some growers may find it beneficial to apply a starter fertilizer right before seeding.
"A starter fertilizer contains higher phosphorus levels than most fertilizers and will benefit seed germination," Munshaw said.
Homeowners can then broadcast seed and lightly rake it into the soil or drill it into the soil using a seed drilling machine.
"The goal with seeding is to have good seed-to-soil contact, so the seed has access to water and nutrients to help it grow," he said. "Homeowners should make sure the seed is not planted too deep as this can prevent good germination and establishment."
It typically takes seven to 10 days for tall fescue to germinate under optimal conditions and 15 to 21 days for Kentucky bluegrass. Germination can take longer if the soil surface lacks moisture, the soil surface temperature is cold or old or poor quality seed is used. In addition, seed harvested in the summer may have a short-term dormancy factor so it may not have time to germinate or become established before cold weather.
After planting, homeowners should keep the new lawn consistently moist but not so wet that puddles appear. To help with continued growth, individuals may want to add a nitrogen fertilizer about one month after germination. The grass should not be mowed until it becomes one-third taller than the desired mowing height.
Additional lawn care information is available on the UK Turfgrass Science website at http://www.uky.edu/Ag/ukturf/HomeLawnCare.htm and their YouTube Channel, UK Turf.
---
Crops
Extension