Tobacco Production Topics Part of UK Hort and Agronomy Field Day
Tobacco Production Topics Part of UK Hort and Agronomy Field Day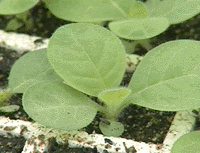 Tobacco plots are an "old reliable" on the University of Kentucky Agronomy and Horticulture field day tours but producers can expect to see lots of new information regarding this crop at the 1999 edition of this field day set for July 15 at the UK Spindletop farm.
It begins with a new face. Dr. Bob Miller will be on hand to talk about his work and meet with producers. Miller is a nationally recognized tobacco geneticist who recently joined the UK College of Agriculture faculty through a split appointment with the University of Kentucky and the University of Tennessee.
"He is very farmer-oriented and will be a major asset to the producers in both states," said Gary Palmer, Extension tobacco specialist in the UK College of Agriculture.
This will be the first opportunity many Kentucky producers will have to visit with the UK-UT researcher.
"He still spends a couple of days per week down in Tennessee," added Palmer. "He has the same sort of trials going on down in Tennessee as well as in Kentucky so this just broadens the types of conditions under which new tobacco varieties can be studied."
Palmer will be looking at the broader issue of how tobacco production techniques have changed over the last few years and how producers need to approach these new conditions.
"With the advent of float beds, producers are able to get tobacco crops into the ground much earlier... and that usually means the weather is likely to be much dryer at curing time," said Palmer.
Palmer sees more and more producers still trying to regulate their barns as if they were curing later in the season rather than earlier. This early curing situation brings about a whole different set of management guidelines which Palmer will discuss.
"There is a slightly higher demand for tobacco that is a bit on the house burned side, but we have shifted our tactics to more quick cures, said Palmer. " If companies have a choice, they will not buy quick cured tobacco. They would prefer a darker crop that has gone through a more typical burley curing process."
Palmer will also have information on how rainfall and earlier planting seasons are affecting the final tobacco yields.
"We now have twenty years of data to back up a predictor system that helps us determine what the final yield will be as each month's rainfall data comes in," said Palmer.
"Rain in May has a negative impact on tobacco, June rain has a small negative impact; and rains in July and August have a positive effect. It just shows you how closely tobacco yields are tied to the weather," said Palmer.
Discussions and plot demonstrations on tobacco disease and weed control problems will address old and new challenges.
"We continue to see a trend toward larger tobacco acreages and this size of production will demand more timely control of weeds with a stronger emphasis on the proper use of pesticides," said William Witt, weed scientist in the UK College of Agriculture.
There is one plot that is testing control measures on a weed that many producers would recognize but can't name. "The weed is called hairy galinsoga," said Witt. "It is becoming more and more of a problem in tobacco as well as many other crops and we have one field specifically set up to test control measures for that weed."
With the continued interest in using starting tobacco in tobacco float beds in greenhouses, UK researchers are beginning to look at temperature controls that reflect the needs of young tobacco plants.
George Duncan and Rich Gates, Ag engineers in the UK College of Agriculture, will demonstrate an automated curtain system that takes the guesswork out of controlling the greenhouse temperature.
The air temperature requirements change as the tobacco plants germinate and grow. The system that will be shown includes sensors that insure a gradual transition to the appropriate temperature and adjust the curtains as needed 24 hours a day.
Dozens of other topics regarding precision farming, forage research, field crop test plots, weed control and horticulture will also be highlighted at the field day. Contact your local Cooperative Extension service agent for agriculture for field day information.