Tree Week: a family-friendly week overflowing with activities
Tree Week: a family-friendly week overflowing with activities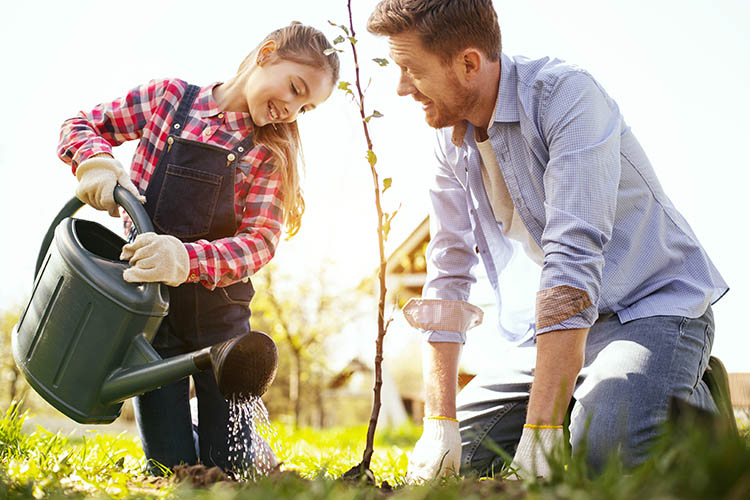 LEXINGTON, Ky., — Too big to be contained within a mere seven days, Tree Week will offer family-friendly educational, recreational and community activities for all ages and interests Oct. 6 - 14.
The week is hosted by the Urban Forest Initiative, a Tracy Farmer Institute of Sustainability and the Environment working group housed within the University of Kentucky College of Agriculture, Food and Environment. Tree Week 2018 is a variety of fun, informative and community events celebrating Lexington's trees and honoring the many ways trees impact people's lives. The activities include everything from symposiums and workshops, community tree plantings, hikes and tree tours, yoga, film, art, literature and music, all in collaboration with a community organization.
"Tree week is all about community engagement," said Mary Arthur, professor of forest ecology in the UK Department of Forestry and Natural Resources and co-lead of the Urban Forest Initiative. "We hope it will serve to open people's eyes to the positive connections they have with trees, even if they may not be fully aware of those feelings, and of the myriad ways that trees in our living space improve our lives."
A sampling of the 40 events include:
Sustainable Urban Landscape Symposium – 9 a.m. to 4:30 p.m., Saturday, Oct. 6, Locust Trace High School and AgriScience Center, 3591 Leestown Road. Presentations and urban field trips for landscapers and the general public. Sponsored by the Lexington Chapter of Wild Ones Native Plants/Natural Landscapes. Preregistration is highly recommended: Wild Ones members: $40, non-members: $50. The registration fee includes a small breakfast and a lunch. Continuing Education Units are available for landscape professionals.
"FernGully: The Last Rainforest," 10 to 11:30 a.m., Saturday, Oct. 6 and 13, Central Library's Farish Theater, 140 E. Main St. A free showing of an animated musical fantasy film set in an Australian rainforest.
A Wheelchair Tour of the Trees of Lexington Cemetery, 2:30 to 4 pm., Sunday, Oct. 7, 833 W. Main St. Participants will travel around the wheelchair accessible cemetery and explore some of the thousands of trees on the grounds. This tour is open only to people who use wheelchairs and a companion.
Tree Planting: Growing Lexington's Urban Forest Through Community, 10 a.m. to 11:30 p.m., Monday, Oct. 8. Volunteers will be needed to plant and mulch neighborhood trees.
Revisiting Floracliff's Old Oaks: A TreeSnap Training and Citizen Science Workshop, 10 a.m. to 3 p.m., Tuesday, Oct. 9, Floracliff Nature Sanctuary, 8000 Elk Lick Falls Road. Workshop participants will hike to Floracliff's old oaks and submit updated measurements and observations to TreeSnap, an app that shares tree information with researchers. The group will learn about the characteristics of old trees and their significance to the region. Limited to 10 participants.
Trees at The Arboretum Tour, 5 to 6:30 p.m., Dorotha Smith Oatts Visitor Center at The Arboretum, 500 Alumni Drive. A walking tour through The Arboretum's 80 acres of native plants, known as the Walk Across Kentucky. The event is free, but preregistration is recommended.
Neighborhood Engagement in Planting and Nurturing Urban Trees, 6 to 8 p.m., Wednesday, Oct. 10, Lyric Theatre and Cultural Arts Center, 300 E. Third St. A free public seminar during which Rupert Bentley Walls will discuss his experience working in London and across the United Kingdom. Walls is the senior arboricultural officer for the Borough of Hackney, London.
Tours des Trees Lexington, 1 to 3 p.m., Saturday, Oct. 13, meet at Broomwagon Bikes + Coffee, 800 N. Limestone. This guided, group bicycle ride through downtown Lexington will take riders on an approximately five-mile tour during which they will hear about some of Lexington's most interesting trees. Families are encouraged to participate.
"The week's events are intended to be family-friendly, and in many cases hands-on. There will be opportunities for people to gather with friends and to meet new people as they engage in new ways with the trees around us," Arthur said.
For more information and to register for these and other Tree Week events, visit https://ukntrees.ca.uky.edu/treeweek2018.
---
Environment
Events
Forestry