A September event at the University of Kentucky/Lexington-Fayette Urban County Government Arboretum may have looked more like Halloween to regular daily visitors.
But, volunteers dressed up as sunflowers, pea pods, skunks, trees, owls, butterflies and more were in place around the park to teach school children about their "creature's" role in nature during a program called Trees, Trails and Creatures.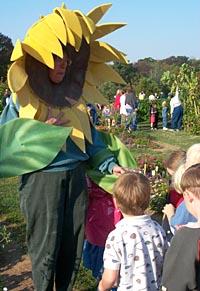 Beth Engel, a volunteer from Lexington, dressed up as a pea pod and talked to children about the different ways peas are packaged and cooked and the nutritional value of consuming peas.
"The Arboretum itself is just great for children to learn," she said. "They get to use their eyes and hands to see and touch. I'm being a pea pod to help the children learn about vegetables and gardens."
The UK entomology department set up a display of insects for children to see and touch and learn about the beneficial role of insects in various ecosystems.
As children walked through the forested area of the Arboretum, they encountered volunteer skunks, owls and trees.
"I'm trying to tell the kids about trees today," said Bob Klausing, an employee of the Lexington-Fayette County Parks Department. "It puts this kind of thing in their minds at an early age. Kids remember things like this for a long time."
The Trees, Trails and Creatures event started eight years ago to provide a fun way for families to get out and enjoy the fall and see the gardens. It has evolved over the years to focus on school groups on a weekday morning, and then a family day the following Saturday.
"We have about 345 children here today," said Marcia Farris, Arboretum director. "We have teachers and a lot of parents too. They tour the gardens and see creatures, insects, flowers and go into the woods."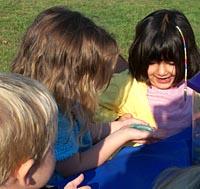 Farris said the program is very strong and draws more participants each year. Some who visit, she said, have never heard of the Arboretum. By 2002, a new education center will be completed on the grounds which will open up many more learning opportunities and uses for the Arboretum. Farris said the scheduled completion date is December 31.
To find out more about Trees, Trails and Creatures for next year or to get more information on the Arboretum, visit the Web site at http://www.uky.edu/arboretum. The park is open 365 days a year from dawn until dusk and admission is free.
Contact:
Marcia Farris 859-257-6955 or 859-257-9339