The University of Kentucky Department of Agricultural Economics came home from the Food Distribution Research Society's annual conference with two national recognitions, thanks to former graduate student Graham Soley and seniors Misty Bean, Renaldo Karajic, Mallie Myers, Lauren Nickell and Joseph Pochinskas.
Soley, who earned his master's degree in May, won the Richardson-Applebaum Award for Outstanding Master's Thesis for his paper, Farmed and Wild-Caught Shrimp in Kentucky and South Carolina: Consumer Preference for Homegrown by Heroes, Community Supported Fishery, and Other Quality Attributes.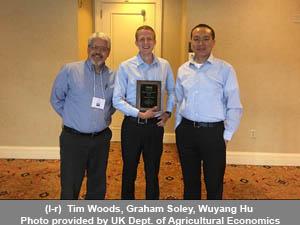 Soley followed the Farmer Veteran Coalition, among other marketing institutions that dealt with food, on Twitter. The groups often talked about new food labels that people weren't familiar with or didn't understand. That sparked an idea: Soley decided to study labeling, focusing on consumers in Kentucky and South Carolina. He particularly concentrated on the Homegrown by Heroes designation, which the Kentucky Department of Agriculture created in 2013. Administered by the Farmer Veteran Coalition, the program has grown and is now in 48 states. He used shrimp as his baseline because of its versatility; it can be a farm-raised product inland or a wild-caught product on the coast.
"We wanted to see if preferences differed between coastal residents who had greater access to the ocean and residents who were more inland and didn't have much access," he said. "We really wanted to focus on what could have a lot of implications for both Kentucky and the South as far as new occupations in agriculture that veterans could take on."
Soley said it was an interesting study to design and implement. His graduate professor, Wuyang Hu, said it was the first study that tackled the consumer side to find out how much people are willing to support the Homegrown by Heroes idea with their food dollars. The study proved that consumers put a higher value on this product—just as much as the value they place on local products.
"The thesis is a big deal," Hu said. "It's a big document that not only targeted this question. He had other ideas, such as wild versus farm-raised, local versus nonlocal, previously frozen versus not—all these different characteristics. He's a great writer, a good storyteller."
Soley has accepted a position with the U.S. Department of Agriculture's Foreign Agricultural Service.
The team of undergraduates, coached by UK Extension Professor Tim Woods, placed second in the 17th annual Food Marketing Challenge.
"I am extremely proud of our team. These competitions very closely simulate real consulting interactions, and our students presented great ideas building on foundations they are getting from their ag economics training," Wood said. "Our students clearly are able to stand with the very best. The co-op manager had so many questions about their ideas, he didn't want to let them go."
Hu described this year's challenge as particularly competitive, with eight strong university teams from around the country competing on a case study about branding and distribution for the LaMontanita Cooperative in New Mexico.
After hearing a presentation from the cooperative itself, teams had to devise a solution to the challenges the cooperative faces. The team addressed branding and distribution issues for the cooperative. They were judged on the content and the manner of their presentations.
"This year the competition was pretty tight," Hu said. "They all did very good work."
The Department of Agricultural Economics is part of the UK College of Agriculture, Food and Environment.
Contact:
Wuyang Hu, 859-257-7271; Tim Woods, 859-257-7270