UK Ag Roundup Features Food, Fun, And Family
UK Ag Roundup Features Food, Fun, And Family
LEXINGTON, Ky.—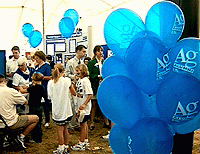 The largest alumni gathering on the UK campus this fall has the look and feel of a family reunion. It's the four- day College of Agriculture Roundup that features delicious food, entertaining agricultural displays, music, sports celebrities, and a real sense of togetherness.
"It's more than alumni coming together – it's also students, faculty, agribusiness people, and long-time friends of the College," said Grace Gorrell, associate director for agriculture alumni and development. "Lots of families and children attend, and we always have a wonderful time seeing each other and renewing acquaintances."
The Roundup, which runs through September 11, has been a tradition at UK for more than 25 years. By the time its 14 special events are over, more than 4,000 people will have spent time under its huge blue & white tents put up near Commonwealth Stadium. The pre-game Roundup event on Saturday by itself will draw more than 1800 true-blue fans.
"We'll have faculty cooking 2000 ears of corn on the grill, and we'll have a giant roaster cooking 800 whole chickens at the same time," said Gorrell. "More than 800 mini-footballs will be tossed to the crowd. And of course we'll have UK sports celebrities, the cheerleaders, the band, agriculture leaders, and lots of special recognition for various friends and alums of the College."
Gorrell said the Saturday event also features exotic insects on display, toy farm machinery, arboretum tours, Wildcat tatoos, balloons, music, and a pre-game pep rally. This year's Roundup also has something new: the first-ever Staff Appreciation luncheon for College employees.
"The appreciation luncheon on Friday is the College of Agriculture's way of saying thanks to its many outstanding staff who work so hard and give so much during the year," said Gorrell.
Other highlights during the week include Farm Bureau Night activities on Wednesday, September 8; the Rotary Luncheon on Thursday at noon; the Student/Faculty/Staff Picnic on Thursday evening; and the Animal Science Reunion on Friday evening.
"It's all here," said Gorrell, "We have colorful sights and sounds, great atmosphere, and wonderful people. The agriculture family is a very special group."
Gorrell said that this year's Roundup, which requires a pre-purchased ticket, is already a sell out and, regrettably, no more tickets are available. She encourages friends of the College who may wish to attend Roundup 2000 to "get your tickets early!"
(NOTE: Media are welcome at all Roundup events. For schedule and details contact the UK Agriculture Alumni office at 257-7211, or Agricultural Communications at 257-3784 or 257-6502.)
Grace Gorrell comments on Ag Roundup 1999.