UK and state partner to restore bottomland hardwoods
UK and state partner to restore bottomland hardwoods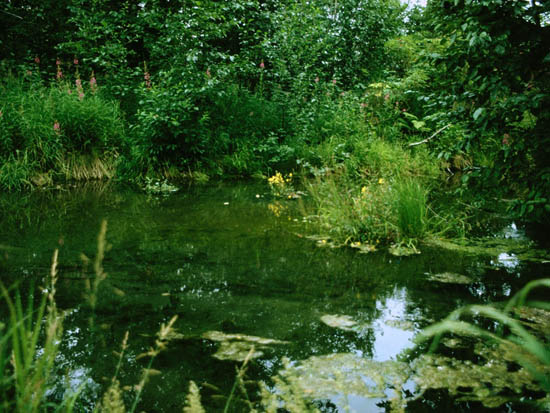 Published on Apr. 22, 2013
LEXINGTON, Ky.—
Bottomland hardwood ecosystems are some of Kentucky's most biologically diverse and productive forests. The University of Kentucky Department of Forestry Extension and the Kentucky Division of Forestry are partnering on an initiative to restore bottomland hardwoods in Western Kentucky.
The goals of the initiative are to plant more bottomland hardwood trees, increase forest management of bottomland hardwood forests and improve wildlife habitats and watershed health. A Woodlands and Wildlife Field Day on June 1 in Hopkins County will offer owners of bottomlands the opportunity to learn more about their forests, offer technical assistance from a professional forester and provide information concerning federal financial incentive programs.
These forested wetland habitats, which include cypress swamps, tupelo swamps and bottomland hardwood communities, can be found throughout Kentucky, but are most common in the Green, Ohio and Mississippi rivers and tributary systems. They are vital to the ecosystem. One estimate indicates that an acre of wetland can store as much as 1 million to 1.5 million gallons of floodwater, slowly releasing it back into streams and groundwater. Because of their ability to retain moisture, wetlands also stabilize temperatures and affect weather patterns.
Oaks, river birch, green ash, bald cypress and sycamore are just a few of the tree species that thrive in bottomlands, though each species' tolerance for saturated soils varies, as does their timber value. Planting bottomland hardwood sites and their long-term management often presents challenges for professional foresters and landowners, so it's important to understand the species-site relationships concerning bottomland hardwood management. Management of bottomland sites depends on landowner objectives, stand history and site characteristics, such as elevation and flooding frequency and intensity. Swamps may be more passively managed over a longer time frame, while other sites, such as terraces, can benefit from more intensive management.
The free field day will take place from 8:30 a.m. to noon CDT on the Bob Henning Tree Farm in Dawson Springs. Registration begins at 8:30 a.m. with the program starting at 9 a.m. Topics covered will include financial assistance programs for woodland and wildlife management; planning, establishing, pruning and thinning tree plantations; wildlife management, including beaver management and control; and woodland management techniques. Lunch will be served at noon.
The Bob Henning Tree Farm is located in southwestern Hopkins County just off Highway 62 on Eldred Menser Road. It lies approximately three miles east of Dawson Springs and two miles west of St. Charles.
Preregister by May 27 by calling the Hopkins County Cooperative Extension office at 270-821-3650, the Caldwell County Extension office at 270-365-2787 or the Muhlenberg County Extension office at 270-338-3124.
---
Environment
Events
Extension
Forestry