UK and Whitley County students help rebuild an ecosystem
UK and Whitley County students help rebuild an ecosystem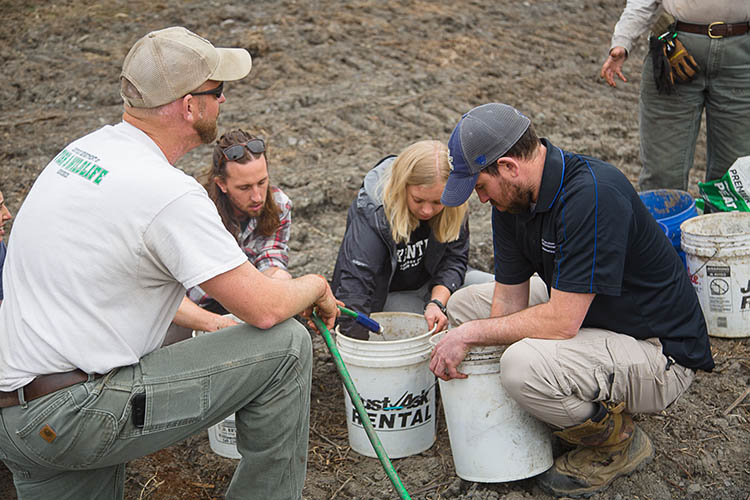 Watch the video here.
WILLIAMSBURG, Ky., – Lee Bryant was having fun, whooping it up and darting from person to person applauding their efforts and offering advice. University of Kentucky forestry and natural resources undergraduate and graduate students, with about 60 FFA students from Whitley County High School, spent a spring day at his Flying Rooster Farm in Whitley County, learning about forest and wildlife management and planting 2,600 tree seedlings.
The property, with its young forests and grasslands, looked much different nearly two decades ago. Bryant and his partners purchased the 600 acres near Williamsburg in Whitley County in 2000. He said, back then it was "a moonscape," left barren and bleak after the woods were over-logged and the hills were mined out. There was potential there, though, to rebuild an ecosystem and heal the land.
The partners leaned heavily on resources available from the Kentucky departments of Fish and Wildlife, Soil Conservation and the Division of Forestry, as well as the UK Department of Forestry and Natural Resources, to develop a plan for the property. Their efforts quite literally have taken root. Trees are growing, grasslands are thriving, wildlife is returning.
The work is not done yet, as evidenced by the massive tree-planting effort that day.
"We thought this was a great opportunity for the students to learn from the Kentucky Division of Forestry service foresters, the ones who have done the stewardship plan on this property and who are helping implement some of the practices," said Laurie Thomas, UK extension forester in the College of Agriculture, Food and Environment. "By the end of the day, we hope they'll be more aware that there is a whole lot going on in these woods, and you can't just leave it alone to grow up all by itself."
Bryant said it's taken a long time to successfully get trees to take hold on the old surface mine. Mining companies often tightly compact the soil to prevent erosion, which prevents tree roots from thriving. Through help from the Appalachian Regional Reforestation Initiative, Kentucky Department of Fish and Wildlife, and UK forestry extension, Bryant learned that ripping up the ground with a bulldozer to aerate it and give the roots space to spread resulted in seedlings growing to six-feet high in three years.
Bryant attributes the land's successful rejuvenation to the cooperation he has received from the various state agencies, as well as UK.
"I get so emotionally charged up when I talk about this property," he said. "We've actually had the opportunity to be part of healing a piece of ground, and that is so cool."
Bryant was happy to share the property and its future with the students.
"These kids come with a work ethic," he said. "Everyone's hands are dirty. They're working, and they're getting a great sense of purpose, because they're changing the landscape. They're actually reforesting a piece of land that hasn't had a forest on it for maybe 30 years."
UK and state foresters also introduced students to some of the techniques Bryant is using to eradicate invasive species —kudzu is an ongoing battle on the property — and build habitat for a diverse population of native wildlife.
"Having a blank slate, you can intentionally put in shrubs and lower-story trees on the outside, and then grow hardwoods further in," he said. "I've also enjoyed the old native grasses like big bluestem, Indiangrass, switchgrass. We do controlled burns here. As soon as you burn it, all the animals come, and then it just explodes with plant life."
Matt Springer, UK assistant extension professor of wildlife management, stood in front of a recently burned field.
"In about two years, this will be super flush. Turkeys will be in there, grassland birds, all kinds of deer activity, quail," he said. "We get to introduce those kinds of ideas to the students through an activity like today's tree planting."
The students planted a mix of trees that included several oak species, redbud, persimmon and plum. Bryant, in close cooperation with the Kentucky Department of Fish and Wildlife Resources and the Kentucky Division of Forestry, selected the species with the big picture in mind.
Beth Evers, a UK junior majoring in natural resources and environmental science, was impressed by how passionate everyone at the site was.
"If someone really takes the initiative to make this (regeneration) a priority, it can have a profound impact on communities and ecosystems," she said.
For the high school students, the work validated what they'd been learning in their environmental sciences class.
"This is truly a life-changing experience," said Naythan Jewell. "I thought I was going to go into the medical field. I started taking these (FFA) classes, and then coming out here and seeing what foresters do every day, that completely made me change what I want to do with my life."
Bryant understands that feeling.
"It has been a lot of work, it sure has," he said. "But it's so rewarding."

---
Events
Extension
Forestry
Sustainability