UK celebrates 25 years of Lloyd's of London partnership
UK celebrates 25 years of Lloyd's of London partnership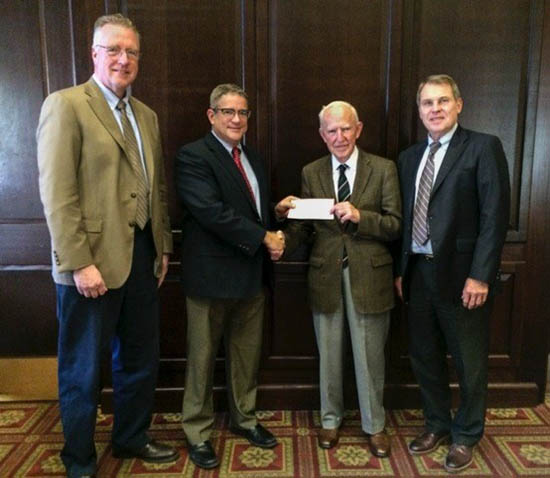 LEXINGTON, Ky.—
The long-term partnership between Lloyd's of London and the University of Kentucky College of Agriculture, Food and Environment celebrated 25 years of continued financial support when representatives from Lloyd's recently presented a $50,000 check to UK.
"Lloyd's has long been a leading bloodstock insurer in Kentucky, and a quarter century of financial support demonstrates the underwriters' commitment to good equine health and cutting-edge research," said Patrick Talley, U.S. central region manager for Lloyd's America.
The partnership supports the Lloyd's Equine Disease Quarterly, a publication dedicated to equine health and welfare, produced by the UK Department of Veterinary Science Maxwell H. Gluck Equine Research Center.
"The College of Agriculture, Food and Environment is grateful to Lloyd's of London for this long-standing and unique support of the veterinary science department in general since 1985, and of the Equine Disease Quarterly for 25 years," said Dean Nancy Cox. "Because of Lloyd's support, this publication has achieved iconic status in the international equine industry, and we are so grateful."
The award-winning publication provides timely and authoritative reports on some of the most important issues facing the equine industry. The Quarterly reaches more than 18,000 readers in 102 countries. Available in paper and online, its articles are regularly reprinted in scientific and lay equine publications worldwide.
Lloyd's Equine Disease Quarterly is available to subscribers at no charge. It is co-edited by Cynthia Gaskill, Alan Loynachan and Peter Timoney from the Department of Veterinary Science.
The most recent issue is available online at http://www2.ca.uky.edu/gluck/q_oct16.asp. For more information about the Department of Veterinary Science and the Maxwell H. Gluck Equine Research Center, visit http://www.ca.uky.edu/gluck.
Lloyd's of London is a 328-year-old insurance market whose members underwrite risk on a direct and reinsurance basis in more than 200 countries. As a global leader in specialty insurance, Lloyd's remains committed to supporting equine research and providing the insurance coverage essential to the health and well-being of horses and the prosperity of equine industries worldwide.
---
Awards
Equine
Events