UK celebrates National Forest Products Week Oct. 16-22
UK celebrates National Forest Products Week Oct. 16-22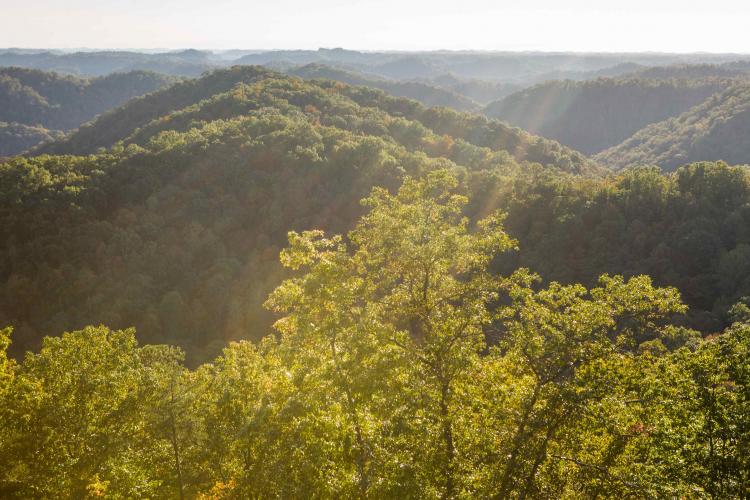 Lexington, Ky—
In 1960, Congress established the third week of October as National Forest Products Week to honor the importance of forests and the goods they produce. It also recognizes the value of forests, the importance of good land stewardship and conservation practices in the responsible management of the state's forests.   
This year's celebration Oct. 16-22 marks that yearly time to think about and appreciate Kentucky's forests. Activities related to the week include a guided walking tour of wood used around the University of Kentucky campus, a sawing demonstration and a cookout sponsored by the Kentucky Forest Industries Association.  
"In the forestry and natural resources department we celebrate trees and forest products every day," said Chad Niman, primary forest products specialist in the UK College of Agriculture, Food and Environment's Department of Forestry and Natural Resources. "We want to share National Forest Products Week with the commonwealth. The forests and woodlands that cover nearly half of Kentucky provide thousands of products that we all rely upon daily. From housing to transportation, recreation, food packaging, fiber, medicine and so much more."  
 Since Kentucky's founding, forests have been a crucial source of renewable raw materials. Wood, like many other natural resources, is replenishable and recyclable, and repurposed lumber is useful for a wide variety of architectural and industrial applications. Additionally, and important to the state's famous bourbon industry, white oak is a staple in barrel making and is responsible for 70% of the spirit's flavor and all of its color.  
 Kentucky's forests consistently contribute between $13 and $14 billion annually through the many wood-using industries that make products in the state and employ more than 50,000 Kentuckians. 
"Our forests leverage and elevate our nostalgic bourbon and equine industries," Niman said. "They are an important component of our strong agricultural system."  
Visit http://forestry.ca.uky.edu for information on forests, forest management, forest products, and other wooded resources. 
---
Events
Forestry