UK College of Agriculture, Food and Environment inducts 2015 Hall of Distinguished Alumni
UK College of Agriculture, Food and Environment inducts 2015 Hall of Distinguished Alumni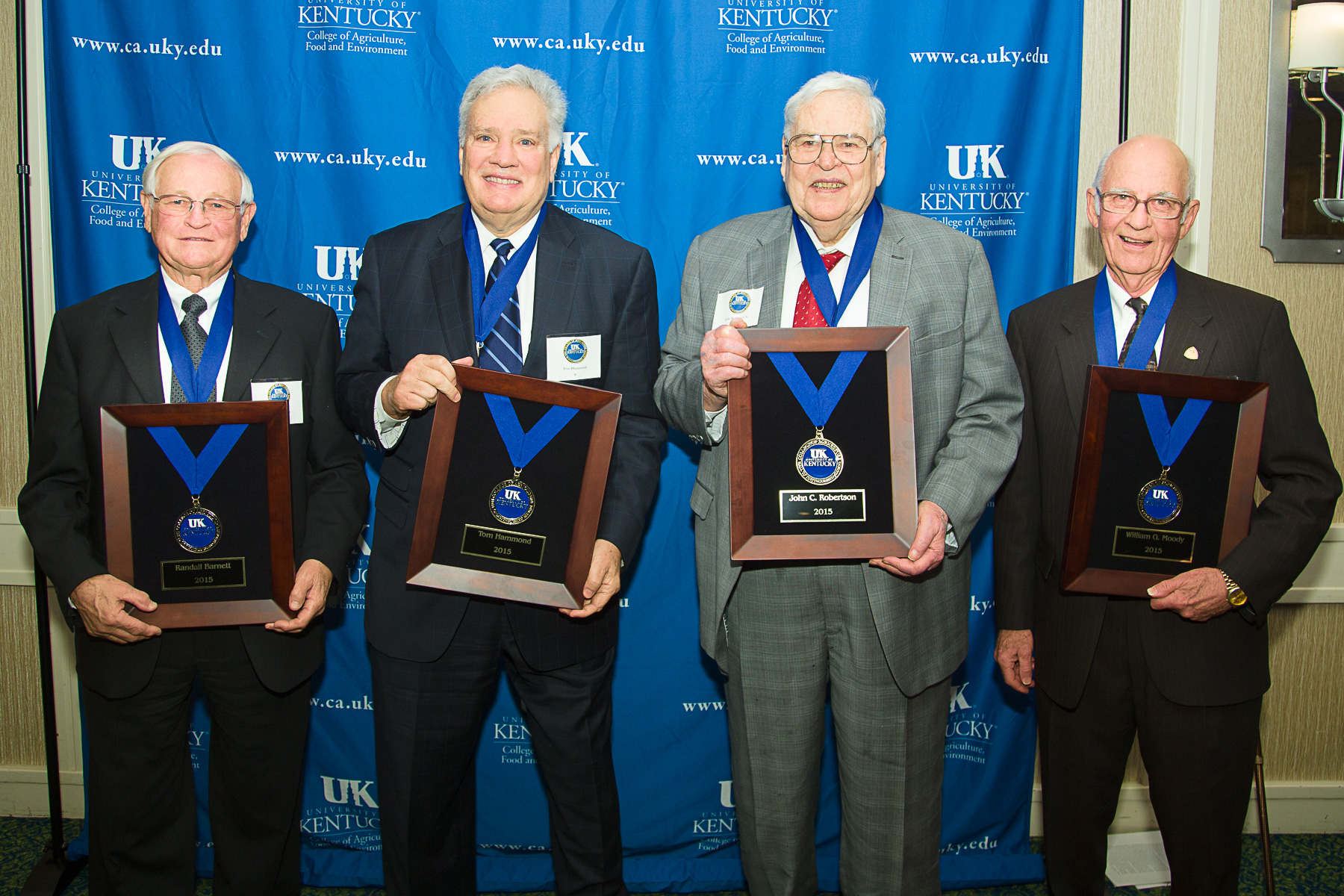 LEXINGTON, Ky.—
The University of Kentucky College of Agriculture, Food and Environment inducted the 2015 members into its Hall of Distinguished Alumni.
This year's living inductees are Randall Barnett, Thomas Hammond, William Moody and John Robertson. These honorees have had outstanding careers and continue to serve in their professions and their communities.
"This is one of the most exciting events for our college, because we celebrate our alumni who are true legends in their various fields," said Nancy Cox, dean of the college.
This award is the highest honor the college bestows. The college's Office for Advancement and the Ag and HES Alumni Association administer the program.
Barnett, of Lexington, served in many capacities during his tenure with the college, starting as an assistant 4-H agent and rising through the ranks to finish his career as associate dean. He founded and, for many years, directed what is today known as the Kentucky Agricultural Leadership Program. He was instrumental in creating and promoting the Kentucky Cooperative Extension advisory council system, provided the leadership to better financially position county extension offices and secured funding for several college facilities. He received a bachelor's degree in dairy production from the college in 1957, a master's in extension education from UK in 1964 and his doctorate from North Carolina State University in adult education and administration.
Recognized as one of the leading network sports broadcasters in the United States, Hammond's vast body of work includes calling thoroughbred horse racing, play-by-play of the NBA, the WNBA, college basketball, gymnastics, figure skating and the Orange Bowl. He is the recipient of numerous awards including three Emmys and two Eclipse Awards, horse racing's top honor. He was the play-by-play voice for Notre Dame football for 21 years. Hammond, of Lexington, has a degree in animal science with an emphasis in equine genetics from UK in 1967. He is a strong supporter of the university, community and the college, where his grandfather, Thomas Poe Cooper, was once dean.
During Moody's tenure as a UK meat scientist, he taught more than 2,500 students, served as adviser or committee member to 55 graduate students and had an active research program. He served as an adviser for one or more student organizations for 30 of his 37 years at UK. His passion for his students and his excellence in teaching and service are reflected in his seven teaching awards. Moody, of Lexington, continues to be a strong supporter of UK, the college and FarmHouse Fraternity. He received his bachelor's degree in 1956 in animal husbandry from UK and master's degree in the same field in 1957. He received his doctorate degree in meat science/physiology from the University of Missouri in 1963.
Robertson, of Lexington, began his career as a swine specialist and held several positions prior to being named associate dean for instruction, a position he held from 1968 to 1994. Robertson is a believer in the total student experience and implemented that idea throughout his career. Under his leadership, a career placement service was started for the college's students along with international exchange programs that continue today. He began the student/faculty picnic that is in its 46th year as well as the annual scholarship banquet that allows students and donors to be recognized and interact with each other. He received his bachelor's degree in agriculture from UK in 1953 and his master's degree in animal husbandry in 1958.
This year's posthumous award recipients are Henry C. Besuden, William G. Finn, William C. Johnstone, Joseph H. Kastle, William D. Salmon and Jesse W. Tapp. Find more informationabout these honorees at http://alumni.ca.uky.edu.
---
Awards
Events