UK Cooperative Extension Service Dishes out Cookbook Jam-packed With Recipes
UK Cooperative Extension Service Dishes out Cookbook Jam-packed With Recipes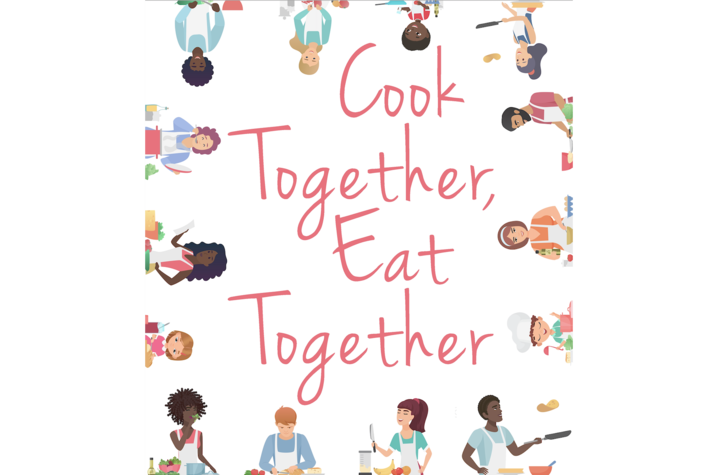 LEXINGTON, Ky.—
In today's fast-paced world, many people find themselves waiting in line or zipping through the drive-thru at fast food restaurants more often than gathering around the dinner table with loved ones. 
Cooking and eating together can help families grow closer, but it can be challenging for parents to put a meal on the table when time is limited and money is tight. 
"Cook Together, Eat Together" by University of Kentucky Family and Consumer Sciences Extension is designed to help families enjoy more home-cooked, healthy meals. Featuring easy recipes for breakfast dishes, soups, vegetables, salads and one-pot meals, the book lays out a strategy to enable families to spend more quality time together while also preparing foods that are affordable and delicious. 
In addition, the authors provide a toolkit for lifestyle changes, including budgeting tips, nutrition guides, breakdowns explaining how to evaluate food labels, and even a quick guide to shopping smart at the farmers market. Each recipe comes with useful information — from preparation tricks that help reduce mess, to ideas for how to use leftovers, all the way to icebreakers for starting fun conversations around the table.
The no-nonsense, nutritious recipes in this cookbook published by the University Press of Kentucky are designed to get the whole family in the kitchen, enjoying comforting foods, and making memories. "Cook Together, Eat Together" serves up tasty, budget-friendly dishes that home cooks and their kids can prepare with less stress.
Family and Consumer Sciences (FCS) Extension, which is part of the University of Kentucky Cooperative Extension Service, is housed within the UK College of Agriculture, Food and Environment.
It represents a group of educators sharing the university's research knowledge with individuals, families and communities to improve quality of life. FCS concentrates on the community as the classroom, delivering programs focusing on nutrition, health, resource management, family development, and civic engagement.
The University Press of Kentucky is the scholarly publisher for the Commonwealth of Kentucky, representing a consortium that includes all of the state universities, six private colleges and two historical societies. The press' editorial program focuses on the humanities and the social sciences. Offices for the administrative, editorial, production and marketing departments of the press are found at the University of Kentucky, which provides financial support toward the operating expenses of the publishing operation.