UK denim drive underway
UK denim drive underway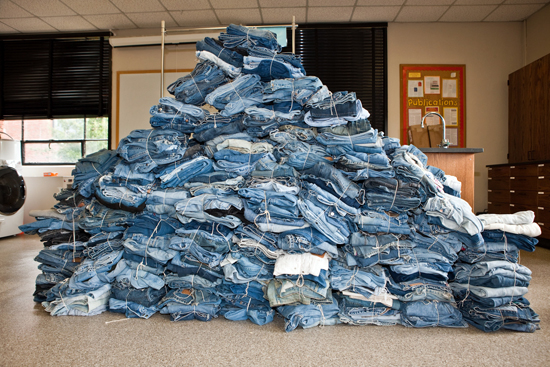 LEXINGTON, Ky.—
It's that time of the year when Kentuckians donate their blue for a good cause. Members of the University of Kentucky Retailing and Tourism Management Club are collecting used denim for their annual drive that benefits families in need of housing.
The club, part of the UK College of Agriculture, Food and Environment, will collect denim until Oct. 30 at several locations across campus and at offices of the UK Cooperative Extension Service. Possible donation items include jeans, shirts, skirts, scraps. Denim garments can come with or without embellishments and be of any color and condition.
Bins are located on campus on the first and third floors of Erikson Hall, on the Rose Street side of the Chemistry-Physics Building, in most dining areas and at UK libraries. Club members will collect denim during the college's main fall alumni event, Ag Roundup, Oct. 3.
The UK denim drive is conducted in conjunction with Cotton Incorporated's Blue Jeans Go Green denim recycling campaign. Cotton Incorporated takes used denim material and converts it into natural cotton fiber insulation to use in the construction of homes and civic buildings for communities in need across the United States. Unlike other types of insulation, natural cotton fiber insulation is not itchy and does not contain carcinogens or formaldehyde. As a result of the denim recycling program, fewer textiles are sent to landfills, reducing the amount of waste.
The UK club, part of the School of Human Environment Sciences, has participated in the recycling campaign since 2008.
Since Cotton Incorporated began the drive in 2006, the organization has collected more than 1 million pieces of denim that have produced more than 2 million square feet of home insulation and saved 660 tons of waste from going into landfills.
UK organizers are hopeful that bins will be set up at off campus locations around Lexington in the coming weeks. For more information, contact Avery Malone, academic coordinator for Retailing and Tourism Management at avery.malone@uky.edu or 859-257-7776 or the local office of the UK Cooperative Extension Service.
---
Environment
Events
Family Consumer Sciences
Sustainability