UK dietetic students, professors come up with innovative ways to make internships work during COVID-19 pandemic
UK dietetic students, professors come up with innovative ways to make internships work during COVID-19 pandemic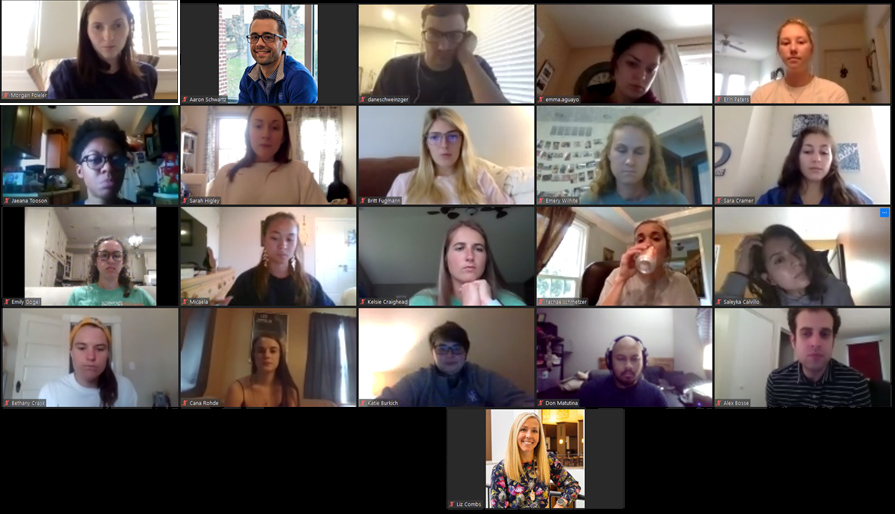 LEXINGTON, Ky.—
In light of the COVID-19 pandemic, University of Kentucky students and professors in the Department of Dietetics and Human Nutrition are developing innovative ways for students to get the internship hours they need to graduate and become registered dietitians.
During a normal year in UK's Supervised Practice Program, interns gain experience through on-site rotations in food service systems management, community nutrition and medical nutrition therapy. They also participate in a medical nutrition therapy case study, conduct plate waste audits, create and provide educational sessions in a community setting, and plan and implement a theme meal.
The internship is a requirement for students to take the Commission of Dietetics Registration Exam. A passing score on this exam earns them the status of registered dietitian. UK's program accepts students enrolled at UK as well as those from other institutions needing the internship experience.
While the accrediting agency reduced internship hour requirements due to the pandemic, UK's program calendar, which runs from January through August, places the students in a unique situation where they still need many hours. Most programs finish in April or May.
Liz Combs and Aaron Schwartz co-direct UK's program and are working with students to meet these internship requirements.
"The interns have been incredibly resilient," said Schwartz, a lecturer in the UK College of Agriculture, Food and Environment. "Our hearts are broken for them, because there is no substitute for gaining actual experience in the internship, but they have taken this in stride and have been working incredibly hard. We are determined to not allow this to influence their graduation in August."
Britt Fugmann is a UK dietetic intern from Nicholasville and recent graduate of Western Kentucky University. Like all UK interns, she was 1.5 weeks into her second rotation when she was pulled from her site out of concern over the pandemic. She experienced many different emotions over the first few days after returning home but is making the best of the situation.
"It's so easy to feel sorry for ourselves and find ways to be upset, but we're also in a unique opportunity as well," she said. "We've been able to see just how extreme circumstances like this affect the profession we're pursuing. Whether it's in the hospital, within a school system or simply the increased demand of nutrition education with many stuck at home, it's affecting all aspects of the dietetics profession."
Department faculty and staff have been supportive throughout the semester as the internship moved online. Dawn Brewer, UK assistant professor, connected the group with Valerie Horn, who is a board member for the CANE Kitchen in Whitesburg for a unique online project. CANE stands for Community Agricultural Nutritional Enterprises. Since 2018, the organization has operated a commercial kitchen for farmers to create value-added products. It also serves as an avenue for low-income individuals to access healthy foods and learn food preparation skills. CANE Kitchen wanted to provide breakfasts and lunches for youth ages 18 and younger as part of a U.S. Department of Agriculture Summer Food Service Program.
"This project allowed us to see how some communities were adapting to the rapid changes regarding food distribution and feeding children during the pandemic," said Emily Gogel, UK senior from Georgetown. "Children receive so much of their food from the normal school day, so it was important to quickly provide meals for these students while they are at home."
Following USDA summer feeding program guidelines, the interns developed weekly meal plans and educational resources on food preparation and recipes that are included in the meal kits distributed to families each week. The meal plans showed families how they could provide similar meals for one or two children on a weekly budget.
Horn said the kitchen and the interns were able to pull together ideas to make the meal kits a reality in a short amount of time. Each week, CANE Kitchen distributes the kits to more than 1,000 children.
"The interns were able to give time and attention to meals and meal plans so that we could focus our attention on logistics," she said.  "We were able to deliver a nice plan and feel confident that all guidelines were met."
In addition to working on the meal plans and educational materials, Bethany Crask, UK dietetic intern and recent graduate from Western Kentucky University, created an online signup for parents to enroll their children in the program.
"Overall, this project was a good way for me to practice more of what I had learned in my first rotation about food service management, said Crask, a LaGrange native who now resides in Bowling Green. "It was a great experience to give back to a community in need during this time."
Other components of the online internship have students completing virtual assignments that include in-depth clinical case studies. They are also listening to guest speakers through Zoom and working with the UK Cooperative Extension Service. In June, they will create resources, such as recipes and cooking demonstrations, to support the Nutrition Education Program's Cook Together, Eat Together project as it goes virtual.
"They have demonstrated so many advanced skills as we have transitioned online, and we are so proud of them," said Combs, UK lecturer.
Schwartz and Combs hope the students can return to on-site internships by June 28 and graduate as planned on Aug. 7.
---
Family Consumer Sciences