UK entomology chair receives prestigious honor
UK entomology chair receives prestigious honor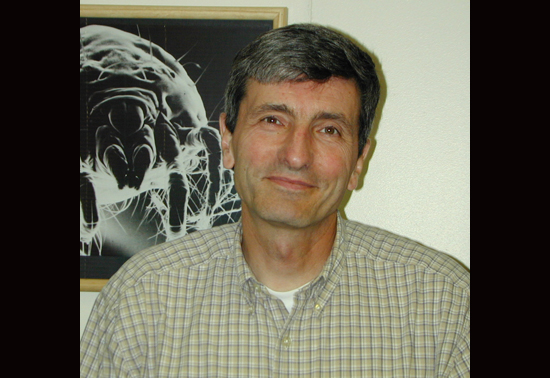 LEXINGTON, Ky.—
John Obrycki, chair of the University of Kentucky Department of Entomology, recently was named a fellow of the American Association for the Advancement of Science, the world's largest general scientific organization.
Obrycki was nominated for his contributions to the field of entomology, particularly for examining the ecological effects of transgenic crops on biological predators and fundamental studies of predatory insects' roles in biological control.
His work in both areas began when he was a professor at Iowa State University and continued at UK in 2003 when he became entomology department chair in the UK College of Agriculture, Food and Environment.
At UK, Obrycki and UK associate professor James Harwood, who was a post-doctoral scholar at the time, conducted studies to determine where Bacillus thuringiensis (Bt) toxins from transgenic crops were found in arthropod food webs. Transgenic corn that produces the Bt toxin targets the European corn borer and corn rootworm, two pests that can severely damage a corn crop. By using molecular gut analyses of predatory lady beetles, they found traces of Bt in them.
"It could be that the lady beetles ingested the Bt by feeding on corn tissues or pollen tissue, or it could be that they were feeding on the larvae of corn pests that had ingested Bt," Obrycki said. "The predatory insects were not affected by the toxin, but we did show that it was moving in the environment in unpredictable ways."
In a 2012 study with then UK post-doctoral scholar Yukie Kajita, Obrycki examined the environmental and economic costs of introducing non-native predators into agricultural systems. The ultimate goal was to make biological control more effective and economical. In this study, they focused on the Coccinella septempunctata, the seven-spotted lady beetle. Since the 1950s, the beetle, native to Europe and Asia, has been released periodically in the United States to control aphids. This beetle is now in all 50 states and considered an invasive species.
"This was the first time a thorough genetic analysis had been conducted on a large-scale biological control program in the United States," he said. "We found that the widely distributed populations of the seven-spotted lady beetles in the United States resulted from both human activities and natural spread."
Being elected a fellow to the American Association for the Advancement of Science is one of the highest honors scientists can receive from their peers. Obrycki was nominated by Joy Bergelson, chair of the Department of Ecology and Evolution at the University of Chicago.
"It is a very rewarding and humbling recognition of the research that I've done with graduate students, post-doctoral scholars and my colleagues," Obrycki said.
Obrycki is only the 18th fellow of the American Association for the Advancement of Science from Kentucky and is the third UK entomologist to receive this award, joining Ken Haynes, UK entomology professor, and Paul Freytag, UK entomology emeritus professor.
He will receive the award in February during the association's annual meeting in Chicago.
---
Awards
Entomology