UK Equine Farm and Facilities Expo to be held June 19
UK Equine Farm and Facilities Expo to be held June 19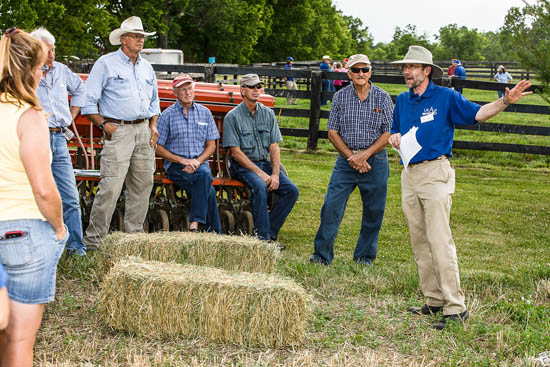 LEXINGTON, Ky.—
University of Kentucky Ag Equine Programs will host an Equine Farm and Facilities Expo from 4 to 8 p.m. EDT Wednesday, June 19 at Tollgate Farm in Georgetown.
Horse owners and horse farm managers will be able to see a range of equipment and supplies for horse farms of all sizes. UK specialists will provide hands-on instruction about practical aspects of management for equine operations.
"The expo provides horse owners the chance to attend an informative event on the grounds of a working horse farm. We appreciate Troy Rankin and Tollgate Farm for hosting this event and for opening the farm's gates to the public," said Ray Smith, professor and forage extension specialist for the UK College of Agriculture.
Nick Carter, Fayette County agriculture and natural resources extension agent, said the expo is a unique opportunity for horse owners on farms of all sizes to learn about a wide range of topics, from weed and grass identification to footing for exercise areas.
"There are not many other venues around that allow horse owners this kind of opportunity," he said.
UK experts will lead demonstrations on subjects including drainage and footing options for exercise areas, temporary fence and water system establishment, rotational grazing benefits, hay production testing and integrating cattle into equine operations. Other topics include weed and grass identification, parasitology, multivalent vaccines and improving farm safety. There will also be a number of informational booths staffed by UK specialists.
Tollgate Farm owner Troy Rankin breeds, trains and races Thoroughbred horses and recently had two run in the Breeder's Cup. Tollgate Farm is a diverse operation in that it also produces hay for both on-farm use and sale, grows tobacco and row crops and raises beef cattle.
According to Michelle Simon, Scott County agriculture and natural resources extension agent, this farm is a great example of how other farming operations can complement an equine operation while still competing at the highest levels.
The farm is located at 301 Stone Road in Georgetown.
Admission to the Equine Farm and Facilities Expo is free, and a meal will be provided. Reservations are appreciated. Contact the Fayette County Extension office at 859-257-5582 to reserve a spot. For more information about this and other UK Ag Equine Programs events, visit http://www.ca.uky.edu/equine or e-mail equine@uky.edu.
---
Equine
Events
Extension