UK Equine Research Hall of Fame inducts four new members
UK Equine Research Hall of Fame inducts four new members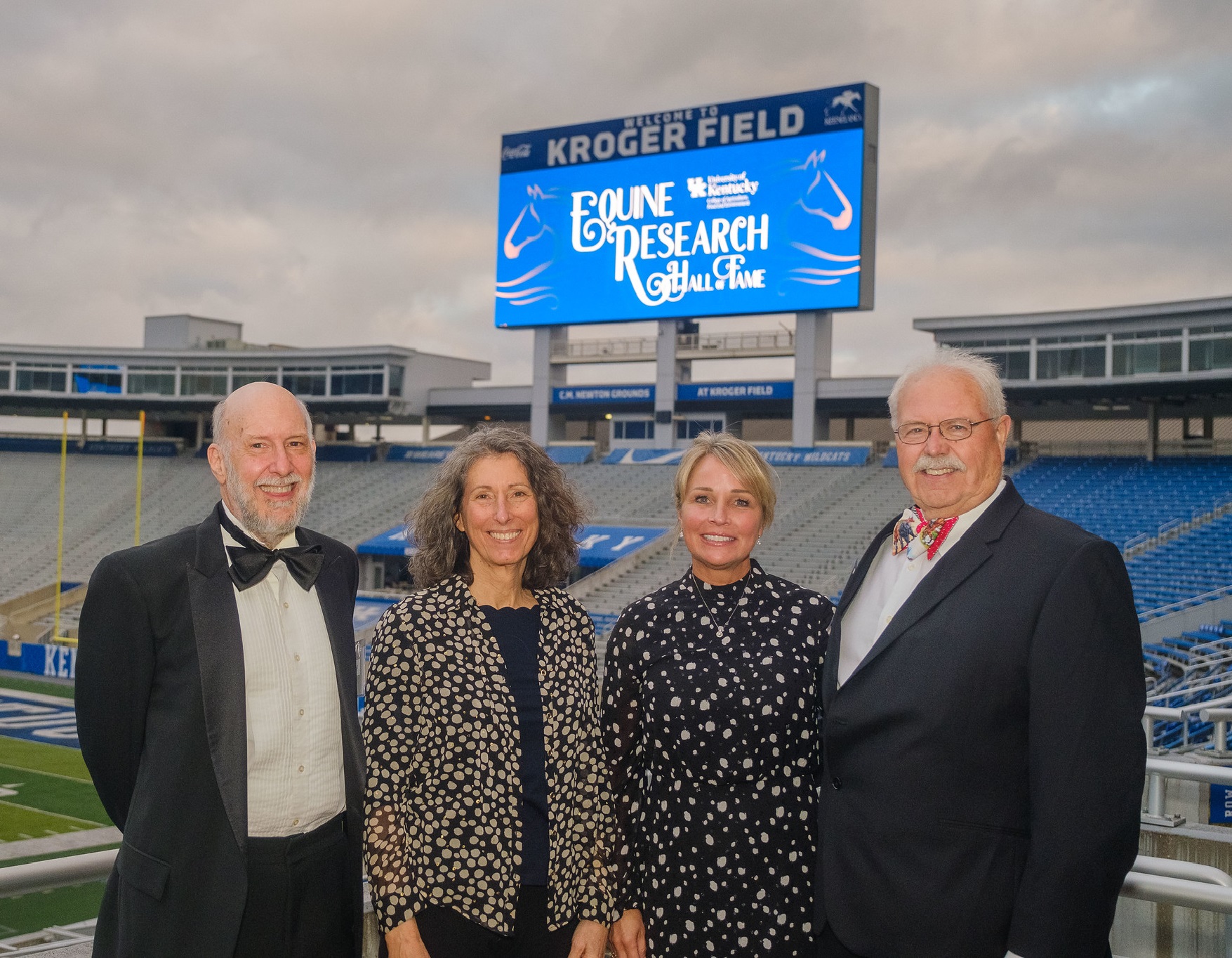 LEXINGTON, Ky.—
Lisa Fortier, Katrin Hinrichs, Jennifer Anne Mumford and Stephen M. Reed are the newest members of an elite group within the University of Kentucky's College of Agriculture, Food and Environment. The UK Equine Research Hall of Fame recently selected the new members for their exceptional contributions to equine research. The four were nominated by their peers and previous award recipients.
"The Gluck Equine Research Foundation is honored to host this long-standing event that celebrates excellence in research," said Stuart Brown, chairman of the Gluck Equine Research Foundation and Keeneland vice president of Equine Safety. 
 This prestigious award is an international forum to honor outstanding achievements in equine research and those who have made a lasting tribute benefiting equine health. We thank the equine community for joining us to celebrate these deserving inductees."  
Lisa Fortier spent 30 years developing the fields of equine joint disease, cartilage biology and regenerative medicine. She focused on quickly identifying and treating injuries to prevent long-term damage to the horse's joints and tendons. 
One of Fortier's most notable contributions was in regenerative medicine, where she was an early adopter of platelet-rich plasma, bone marrow concentrate and stem cells for use in both equine and human patients. Fortier's lab also helped diagnose cartilage damage and improve clinical orthopedics. 
"Lisa is a pioneer in developing and implementing treatments in regenerative medicine in the horse industry," said nominator Doug Antczak, Dorothy Havemeyer McConville Foundation professor of equine medicine, at the ceremony. "Very, very courageous work; and a lot of it doesn't work out, so there are many negative results. But she's been a courageous researcher in this in this area … she's also been a very talented and outstanding equine orthopedic surgeon in her own right. Lisa has conducted biomedical research across the spectrum of many species not only in the horse, but in other livestock species. She really embodies the concept of medicine." 
Katrin Hinrichs spent her career studying horse reproductive systems and developing methods to aid them in reproducing. Her 40-year research career focused on equine endocrinology, oocyte maturation, fertilization, sperm capacitation and assisted reproduction. 
Hinrichs' discoveries led to many basic and applied research advances. She cloned the first North American horse and set the medical standard for intracytoplasmic sperm injection and in vitro horse embryo production. In addition, Hinrichs mentored 85 basic and applied veterinary research students, residents, graduate students and postdoctoral fellows and hosted 50 foreign researchers in her lab throughout her career. 
"Without question, I would have put Katrin on the top of her peers in the international academic community," wrote one of her nominators Dickson Varner, a 2018 Equine Research Hall of Fame inductee. "She has a keen scientific mind, unrelenting productivity, a sincere interest in developing the next generation of veterinarians and scientists and a level of morality above reproach." 
Jennifer Anne Mumford, a posthumous inductee, was a world-renowned equine infectious diseases researcher, particularly in virus research. Her distinguished career at the Animal Health Trust, Newmarket, United Kingdom, began when she became the first head of the newly established equine virology unit. As the division chief, she focused on leading causes of acute infectious respiratory disease in the horse, primarily equine herpesvirus and equine influenza virus, and to a lesser extent, Streptococcus equi, the causative agent of equine strangles. Mumford made numerous significant contributions in these areas, including developing improved vaccines, diagnostics and international surveillance.  
During her career, Mumford also founded immunology and equine genetics groups at the Animal Health Trust, which leads studies in diseases such as equine herpes rhinopneumonitis, equine influenza, Streptococcus and Clostridium. 
"Many of her letters of nomination described her as unique, inspirational and ahead of her time for making breaches in the glass ceiling that existed for woman researchers in the late 20th century," said nominator Tom Chambers, a Gluck Center researcher, at the ceremony. "(She was known as) a tireless promoter of equine infectious disease research, one not afraid of controversy, who frequently challenged dogmatic thinking and could engage in spirited discussions. Her efforts frequently resulted in changes in regulations and approaches based upon the latest scientific developments." 
Stephen M. Reed's nominators described him as the final word in equine neurology. Many consider him one of the world's best equine neurologists. Reed's research, published in 180 scholarly journals, has made significant advances in equine medicine, neurology, physiology and pathophysiology and brought him international acclaim. He has been a role model and mentor to hundreds of aspiring equine practitioners. 
"He has spent 40 years disseminating information to improve the health and welfare of horses," said James MacLeod, UK Ag Equine Programs director and Gluck Center musculoskeletal researcher. "(It's been) quite an accomplishment. In addition, he's trained many students and residents and worked with collaborators and had a huge impact in the field." 
One of his nominators summarized Reed's career by writing "equine neurology would not be the science it is without Steve."  
Established in 1990, the UK Equine Research Hall of Fame honors international scientific community members who have made equine research a key part of their careers, recognizing their work, dedication and achievements. Nominees may be living or deceased, active in or retired from the field of equine research.
---
Equine