UK extension agents rack up national honors
UK extension agents rack up national honors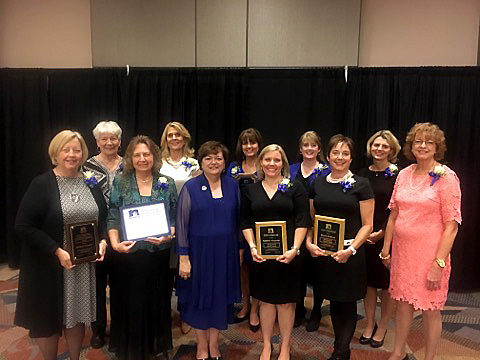 LEXINGTON, Ky.—
University of Kentucky family and consumer sciences extension agents showed the nation that they are some of the best in the business, as they nearly swept the professional awards during the annual meeting of the National Extension Association of Family and Consumer Sciences.
UK Cooperative Extension Service agents received all three distinguished service awards, all of the continued excellence awards and several program awards. Janet Johnson, Allen County, was named Educator of the Year. Lora Lee Howard, Clay County, was installed as the association's president.
"The recognition of our family and consumer sciences agents at the national level exemplifies the service they provide to their local communities," said Jennifer Hunter, interim director of UK family and consumer sciences extension in the College of Agriculture, Food and Environment. "Our agents are truly an asset to Kentucky families and family and consumer sciences extension."
The association's Distinguished Service Award recognizes family and consumer sciences educators for their leadership, outstanding programs and personal and professional growth. It is the association's highest award. Award recipients must have 10 or more years of service to the profession and to the association. Winners include Katherine Alexander, Webster County; Melanie Bealmear, Union County; and Denise Wooley, McCracken County.
The Continued Excellence Award is given to individuals who are actively involved in professional improvement programs, promote the professional development of colleagues and exhibit leadership. Winners must have 12 or more years of service and must have been a past recipient of the association's Distinguished Service Award. Award winners include Elizabeth Kingsland, Fayette County; Edith Lovett, Pulaski County; and Leslie Workman, Pike County.
UK family and consumer sciences agents also received awards for their innovative programming efforts. National winners include Melissa Goodman, Hickman and Carlisle counties, Clean and Healthy Families and Communities Award; Judith Hetterman, Owen County, Communications Photography Award; and Diana Doggett and team, Fayette County, Communications Educational Technology Award. Doggett also received The Joint Council of Extension Professionals' Creative Excellence Award.
---
Awards
Extension
Family Consumer Sciences