UK extension agents receive national accolades
UK extension agents receive national accolades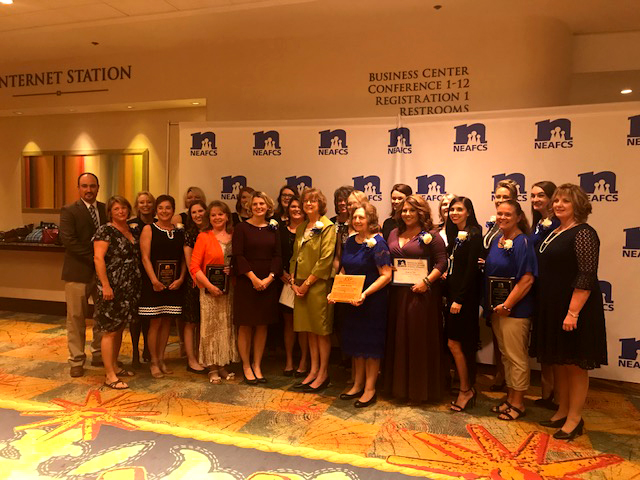 LEXINGTON, Ky.—
Several University of Kentucky Cooperative Extension Service agents received national recognition for innovative programming and distinguished careers during the annual meeting of the National Extension Association of Family and Consumer Sciences.
"Our family and consumer sciences extension agents work to improve the quality of life for individuals and families in their local communities," said Jennifer Hunter, UK assistant director of family and consumer sciences extension. "Their national recognition demonstrates the quality of programming they are providing to the commonwealth is second to none."
UK FCS agents received the distinguished service awards, continued excellence awards and several program awards.
Judith Hetterman of Owen County received the Joint Council of Extension Professionals' Creative Excellence Award. The national award is given to an extension agent who used innovative programming and creativity to address an issue and received positive outcomes. Hetterman won for a hands-on program she developed called "Recipes for Life." The program provides nutrition, food safety and wellness education to Owen County fifth-grade students.
The association's Distinguished Service Award recognizes family and consumer sciences educators for their leadership, outstanding programs and personal and professional growth. It is the highest award presented by the association. Award recipients must have 10 or more years of service to the profession and the association. Winners include Nanette Banks, Letcher County; Amanda Hardy, Henderson County; and Eugenia Wilson, Boyd County.
The Continued Excellence Award is given to individuals who are actively involved in professional improvement programs, promote the professional development of colleagues and exhibit leadership. Winners must have 12 or more years of service and be a past recipient of the association's Distinguished Service Award. Award winners include Melanie Bealmear, Union County; Kenna Knight, Pendleton County; and Christy Ramey, Simpson County.
National first place winners for outstanding programming efforts include Dayna Parrett and team, Hardin County, Innovations in Programming; Leslie Workman, Pike County, Communications Award for a Radio/Podcast; Alivia Faris, Lawrence County, Extension Housing Outreach Award; and Morgan Rousseau, Livingston County and Anna McCoy, Fulton County, Clean and Healthy Families and Communities Award.
Lora Lee Frazier Howard, Clay County, completed her term as the association's president.
---
Awards
Extension
Family Consumer Sciences