UK Extension supports AmeriCorps team with valuable lessons in cooking
UK Extension supports AmeriCorps team with valuable lessons in cooking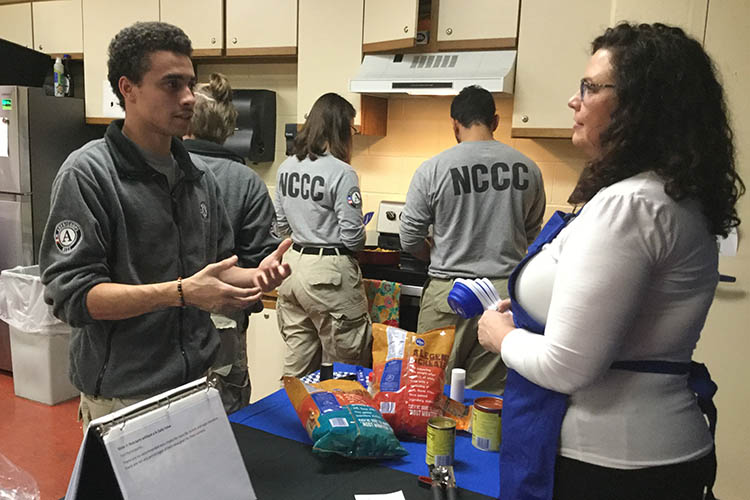 NEWPORT, Ky., — The 10 AmeriCorps National Civilian Community Corps members got a little something extra from their two-month stay in the Cincinnati/Northern Kentucky area when they met University of Kentucky Cooperative Extension Service's Melissa Pilcher. They not only got some good eating, they learned how to do it themselves.
Pilcher, the Supplemental Nutrition Assistance Program Education assistant for the Campbell County Extension office, met weekly with the team of young volunteers from around the country who were volunteering with the Brighton Center in Newport as part of the AmeriCorps network of national service programs. During each session, she taught them strategies for healthy eating and gave them a few cooking lessons at the same time. It was all part of UK Extension's seven-part program Heathy Choices for Every Body, which teaches nutrition, cooking skills and food budgeting and promotes physical activity to limited-resource audiences.
When Pilcher found out that the team was making recipes from extension's 2018 Food and Nutrition calendar, an annual project of UK family and consumer sciences, she happily put together an entire binder of recipes from past calendars and other sources for the group to try.
"I put together a collection of different things, hoping they would find some other things that would spark their interest," she said.
Because many of the team members have limited experience in cooking, Pilcher has turned the Healthy Choices for Every Body curriculum into a hands-on teaching experience she called Cooking from the Calendar.
As the young people chopped and sautéed vegetables for their lunch of skillet enchiladas, Pilcher said, "This is one of my absolutely favorite groups that I've worked with. They are engaged. They are eager to learn. As you can see behind me, they are not afraid to jump in and ask questions and do what needs to be done, and I love that about them."
That day's lesson focused on reading food labels. Pilcher said reading labels and learning healthy eating habits now can make a big difference in their future health.
"So many young people just eat what look or sounds good and don't always contemplate the nutritional value in things. And they also don't contemplate the price," she said. "One of them mentioned to me that it's so expensive to eat out, and because they are on a very limited budget like so many people in America are, there is no way they could eat out every day. So by learning to cook for themselves, they are able to prepare not only healthy meals, but stretch their budget so much further."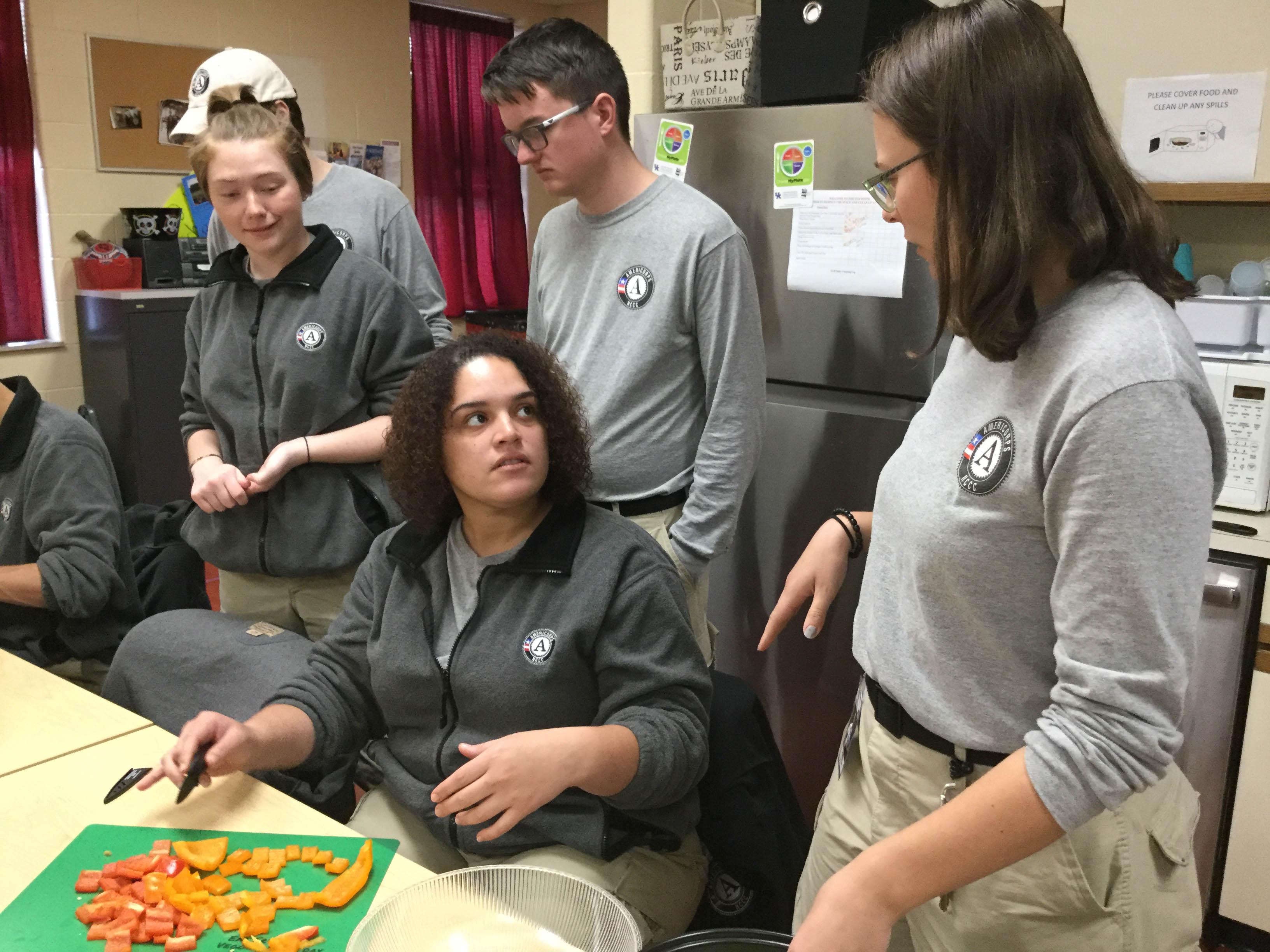 Claritza Sanchez, of Puerto Rico, has two team responsibilities. She is the media representative for the group and the food coordinator. The latter role means she coordinates the meals based on team members' food restrictions and eating preferences. Though she enjoys cooking and has experience in cooking for herself, many in the group are beginners, so she has appreciated the many recipes Pilcher provided, particularly the easy ones.
"I select a recipe, I make a list of food, and each person signs up to cook or clean up, so that way each person gets to actually learn how to cook," Sanchez said.
For Tyson Wadkins, who has completed his sophomore year at the California State University, Chico, cooking and sharing food with his fellow team members has built community.
"It really brings us together. We don't always love the same stuff, and not everyone eats every meal, but getting together at least once, twice, three times a week, eating together at the same table, sharing the same food, it really has made a difference," he said.
Local county Cooperative Extension offices have information about future Healthy Choices for Every Body classes. Classes are free and open to the public.
To view the video, click here.
---
Extension
Family Consumer Sciences