UK FitBlue how-to videos aim to get more Kentuckians active
UK FitBlue how-to videos aim to get more Kentuckians active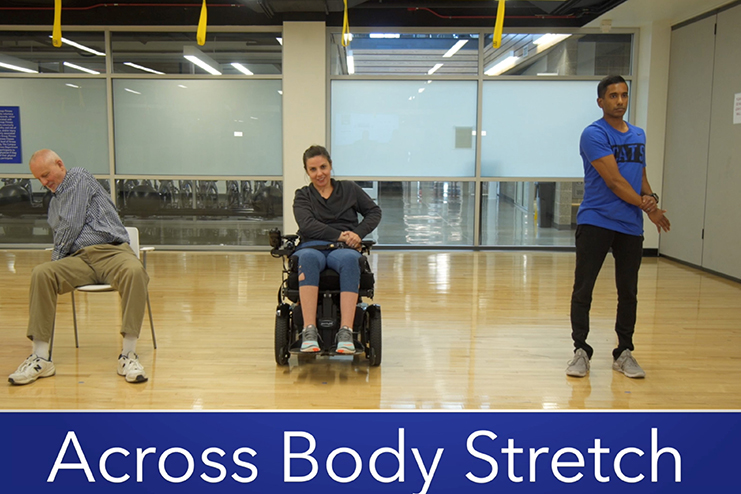 LEXINGTON, Ky., – FitBlue, a physical activity tracker app developed by the University of Kentucky, is helping more Kentuckians get moving by releasing new how-to exercise videos with intentional mindfulness for individuals of all ability levels.
"Kentucky has one of the highest disability rates in the nation with 34.6% of the state population having some type of disability," said Natalie Jones, extension specialist for family health in the UK College of Agriculture, Food and Environment. "We want to show everyone that they can be active regardless of any physical limitation or disability they may have."
To make sure the videos were inclusive to all Kentuckians, Jones, who works in UK's Family and Consumer Sciences Extension, collaborated on the videos with Lindsey Mullis, inclusive health and wellness director with the UK Human Development Institute. The videos were funded in part through the institute's Project Community Health Education and Exercise Resources (Project CHEER), which is funded by the Centers for Disease Control and Prevention.
"Individuals who report having a disability are more likely to be inactive, overweight and unhealthy, which is why it is so important that we partnered to show the variety of ways anyone can successfully participate in physical activity regardless of limitations one might experience," Mullis said.
The videos demonstrate three levels of options or adaptations to do the same exercise and offer safe ways people with disabilities or injuries can incorporate movement into their daily routine. The videos feature real Kentuckians with a variety of ability levels and ages. App participants can learn specifically about modifications to prevent falls, exercise in a wheelchair, and physical activity options for beginners.
"These videos are ideal for everyone, including specific modification options for those with injuries or disabilities, weight problems, diabetes or seniors looking for ways to reduce their risk of falling when active," Jones said.
The UK Department of Dietetics and Human Nutrition began developing the app as part of a grant UK received from the Centers for Disease Control and Prevention to help lower obesity rates in counties where more than 40 percent of the adult population is considered obese.
Since the app launched in March, more than 1,200 Kentuckians have participated in one of 60 Fitblue step challenges. These local, four-week challenges are coordinated by UK family and consumer sciences extension agents across the state.
FitBlue is much more than a fitness tracker. The app includes a nutrition tracker, farmers market locator, a food bank locator and workout plans for all ability levels. These features are available to participants regardless of whether they are currently participating in a local steps challenge. In the app, participants can opt in to join a walking challenge, receive Plate It Up! Kentucky Proud recipes and other educational materials from UK.
Individuals interested in participating in a local FitBlue steps challenge should contact their local family and consumer sciences extension agent. FitBlue is free and available on the Apple App Store and Google Play.
Project CHEER addresses the startling health disparities experienced by individuals with disabilities through partnership building, education and the creation of healthy resources focused on inclusion. More information about Project CHEER and inclusive health can be found at http://www.wellness4ky.org.
---
Family Consumer Sciences