UK Forest Health Center shares in $3 million grant
UK Forest Health Center shares in $3 million grant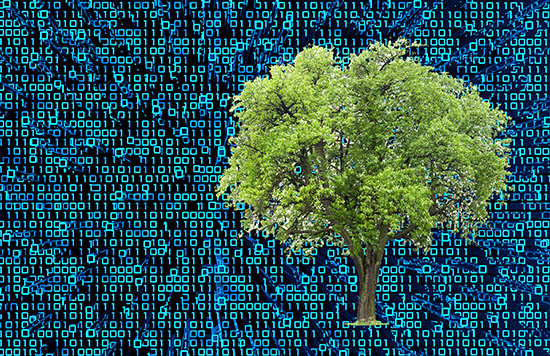 LEXINGTON, Ky.—
In the digital age, one of the problems is how to coordinate and access the vast quantity of data that researchers everywhere are generating. Big-scale genome science generates a massive amount of data in laboratories around the world. The scientific community and the public need a portal to access that information.
A $3 million National Science Foundation grant will go toward creating a cyberinfrastructure that will allow scientists and the public to input and access data concerning forest trees and fruit trees. The University of Kentucky is one of four universities, along with the U.S. Forest Service, Southern Research Station, to collaborate in the development of an integrated web-based information system.
"Having stand-alone databases that are community specific and don't talk to each other so you can query information in other databases is a real problem in cyberinfrastructure," said Albert Abbott, a scientist with the Forest Health Research and Education Center in the UK Department of Forestry. "We want different research communities to easily be able to talk to each other, to easily move data back and forth between databases."
Besides UK, this project includes researchers from Washington State University, University of Tennessee and University of Connecticut who have been working on developing databases for fruit trees and forest trees. Experts at Washington State, the project's lead university, and UT have developed a web interface called Tripal that provides flexible access to database information. This enables scientists and the public to easily access information about trees, tree genetics, sequences of tree genomes and other information housed in specialized tree breeding and research community databases.
UK's role will be to manage the outreach and education proponent of the project.
"We have this very, very solid outreach and extension component in the Department of Forestry," Abbott said. "We have a real strength there that we can bring to the table, because the National Science Foundation has a mandate not only to fund the research side, but also the outreach and educational part—how the work will be utilized by the public and scientists both."
To that end, the Forest Health Center will present workshops for woodland owners and people from private industry and state agencies. The idea is to integrate their observations on tree health and other attributes into the database through the use of mobile apps such as Tree Taggr.
"We're a team, both the public and the researchers, and we can work together to promote the science that needs to be advanced to preserve and develop our tree resources," Abbott said.
Building a better cyberinfrastructure allows the rapid transmission of important information about lethal diseases and insect pests of forest and fruit trees.
"One might envision that interconnected databases could have a role not just for scientists, but also for allowing landowners to access information about diseases that are attacking trees in their location and strategies that could be used to ameliorate problems," he said.
Dana Nelson, co-director of the Forest Health Center, is with the U.S. Forest Service housed in the UK College of Agriculture, Food and Environment.
"The Forest Service is really interested in being involved in this work, both in terms of understanding and improving the health of forest trees and forests," he said. "The Forest Health Center has a strong outreach and education component. I think that's a key strength that we bring to this project overall."
---
Extension
Forestry