UK Forestry and Natural Resources Extension receives national award
UK Forestry and Natural Resources Extension receives national award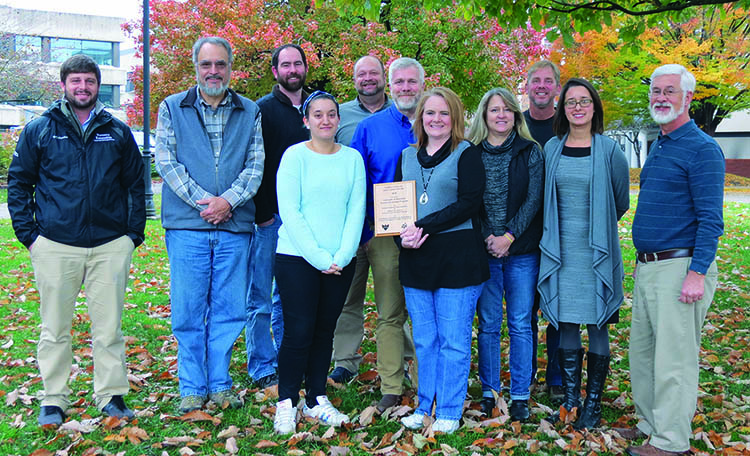 Published on Dec. 18, 2018
LEXINGTON, Ky., — The University of Kentucky Forestry and Natural Resources Cooperative Extension team recently won the Comprehensive Family Forests Education Award presented by the National Woodland Owners Association and the National Association of University Forest Resources Programs.
This is the second time the team has won this national award, which is presented to an educational institution that has delivered the most effective education program benefiting family forest owners over the past five years.
A family forest education program is a combination of educational materials, media, courses, workshops, events and/or electronic media, including applied research that supports those efforts. The award recognizes effective programs that address any or all aspects of forest resources management including silviculture, forest health, harvesting, forest and estate planning, business management and marketing.
Jeff Stringer, chair of the Department of Forestry and Natural Resources in the UK College of Agriculture, Food and Environment, accepted the award on the team's behalf.
"Forests comprise 50 percent of Kentucky, and 78 percent of the 12 million acres of forest is family owned. It is vital that these family forest owners are provided with information and education to help them make wise decisions to enhance the forest for their benefit and ultimately for the benefit of all Kentuckians," he said. "I am proud of the tireless work conducted by extension professionals in the Department of Forestry and Natural Resources. This national award highlights the quality and effectiveness of their program."
Information about the programs and resources UK Cooperative Extension offers for Kentucky woodland owners is available online at http://forestry.ca.uky.edu/extension-home.
---
Awards
Forestry