UK forestry extension offers resources for woodland winter storm damage
UK forestry extension offers resources for woodland winter storm damage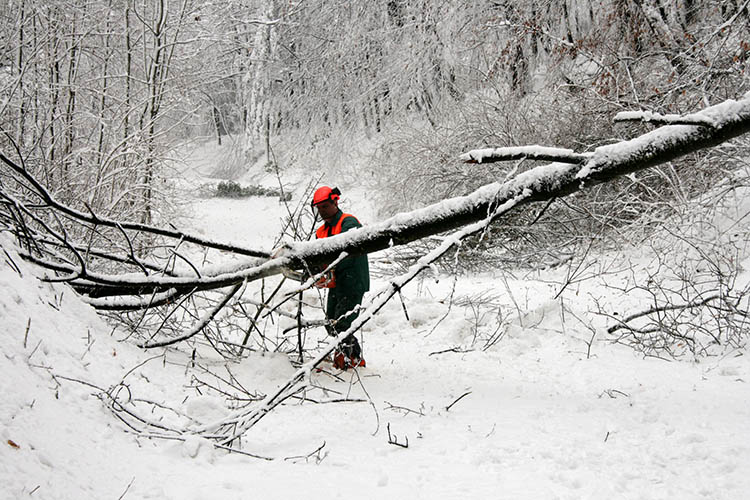 LEXINGTON, Ky., — The recent winter storm caused damage to woodlands across the state, varying in intensity depending on the region. For woodland owners who rely on timber-producing trees as part of their income, the destruction from ice and snow could impact their bottom line.
University of Kentucky's forestry extension, in the College of Agriculture, Food and Environment, has a website with fact sheets, safety guides and a photo guide that shows different types and levels of damage owners may encounter on their property. Such resources can help owners prepare some background information on the damage before making management decisions with the help of a professional forester.
"The level of severity with your damage is going to directly influence the type of management that you take in a woodland," said Jacob Muller, assistant professor of hardwood silviculture and forest operations extension in the UK Department of Forestry and Natural Resources.
Ice damage affects different species in a variety of ways. Some species are better able to tolerate a threshold of ice accumulation on them, and much of that depends on the tree's structure, the crown formation and the root system. Generally, conifer trees are more susceptible to uprooting and stem breakage than many of the hardwood species.
Muller recommends that landowners work with a professional forester to assess the damage in a private timber stand. Foresters can evaluate the work that needs to be done and which trees should be taken out or saved for their timber or their wildlife value. They can connect owners with licensed and insured contractors who will help harvest or salvage damaged trees. Landowners should contract with reputable loggers with full workers' compensation insurance to work in their woods. Logging is extremely dangerous during the best of times, and the recent ice storm makes it even more so.
Not all tree damage is equal. Limb damage does not necessarily affect the value of the tree. The main bole, not the limbs, is the part that is primarily evaluated at the time of a timber sale. Depending on the species, if more than 30-50% of a tree's crown is damaged, a forester may recommend harvesting the tree before the crown damage can damage the bole.
A damaged tree can actually add to the life of the forest, since it can be attractive to wildlife. Trees with cavities offer shelter for a variety of mammals and birds.  Even the insects that thrive in the fresh wounds will attract insect-feeding birds. It's not uncommon for landowners to leave damaged trees on their properties to attract and protect wildlife.
"At the level of this storm, we're probably not going to see complete devastation of a stand," Muller said. "A lot of times these winter storms would generally be considered a low- to mid-severity disturbance event that might damage or kill individual trees here or there, and we can manage appropriately for that. That could entail leaving some as great wildlife trees."
Above all, Muller emphasized, safety measures should be taken.
"It's really important to pay close attention, if you're heading into your woodlands now," he said. "Be on the lookout for anything from what we call widowmakers, which are broken limbs hanging in the canopy, to trees that have been uprooted and could fall at some point. A forester can help you identify some of those safety concerns as well and help you decide what management actions are appropriate. The Kentucky Division of Forestry and local Cooperative Extension offices are great initial resources. The Kentucky Association of Consulting Foresters is also a good resource to find accredited consulting foresters."
For this and other useful information about woodland winter storm damage, visit http://kytimberdamage.ca.uky.edu/.
---
Extension
Forestry