UK Forestry students, Cooperative Extension integral to 2015 Kentucky Wood Expo
UK Forestry students, Cooperative Extension integral to 2015 Kentucky Wood Expo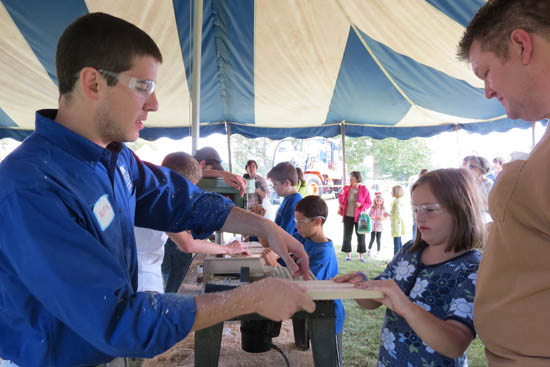 LEXINGTON, Ky.—
The Kentucky Wood Expo returns to Masterson Station Park in Lexington Sept. 18-19, and University of Kentucky Cooperative Extension will have a big hand in two days of educational and fun activities for the entire family.
The biennial event, sponsored by the Kentucky Forest Industries Association, offers classes, competitions and more than 100 exhibits and demonstrations for everyone, from the forest professional to simple lovers of wood and wildlife. Sawmill, pallet, logging, secondary and wood processing machinery will be on display along with a wide range of support services. Logger education classes will be offered, as well as educational opportunities for woodland owners.
Got Woodlands? One Acre at a Time, a woodland owner seminar offered by UK Forestry Extension in conjunction with the Kentucky Division of Forestry, Kentucky Department of Fish and Wildlife Resources and Kentucky Association of Consulting Foresters, will address woodland health issues, timber sales and working with wildlife biologists and foresters. The seminar will run from 9 a.m. to 11:30 a.m. Sept. 19 and is a great opportunity to make important connections with experts who can help with woodland management.
Jeff Stringer, UK Forestry extension professor for hardwood silviculture and forest operations, will also offer a demonstration on small-scale logging using all-terrain vehicles and tractors. The session will run from 1:30 p.m. to 3 p.m. Sept. 19. To register for either One Acre at a Time or the small-scale logging session, call the UK Department of Forestry, 859-257-7597. Expo admission is required.
It's not necessary to be a woodland owner or industry professional to enjoy this year's expo. Other activities will include chainsaw carving demonstrations, open lumberjack competitions, knuckleboom and skidder contests, log guess, craft displays and a silent auction to benefit the Log a Load for Kids and the Kentucky Children's Hospital. On both days, woodworking classes taught by UK Forestry's Bobby Ammerman will offer a chance for attendees to make their own free cutting board or birdhouse. A Critter Tent hosted by Steven Price, assistant professor of wildlife ecology in the UK Department of Forestry, and Blake Newton, extension specialist in the UK Department of Entomology, will have displays of Kentucky reptiles, amphibians, insects and spiders, plus a few insects from other parts of the world, such as tarantulas and giant roaches. Visitors can learn about the critters' ecology and management as well as about invasive insect species, such as the emerald ash borer and hemlock woolly adelgid, which threaten Kentucky's trees.
UK Forestry associate extension professor Terry Conners will work his "wood magic" on both days of the expo. Demonstrating the importance of wood in everyday life, Conners will share information about wood properties, musical instruments, forest fires and more in a fun, interactive presentation. Everyone will leave with a wooden bubble blower. He and UK Forestry's Billy Thomas will also hold a Saturday session on wood and tree identification.
College students from UK, University of Tennessee, West Virginia University and others will be competing in the 2015 Kentucky Wood Expo Conclave Sept. 19. Comprised of 12 events, the conclave has both men's and women's competitions for the underhand chop, stock chainsaw, axe-throwing and manual sawing, both single and pairs.
For a full schedule of events Kentucky Forest Industries Association's website, http://www.kywoodexpo.com.
---
Environment
Extension
Forestry
Sustainability