UK graduate student one of 10 selected by USDA to attend conference
UK graduate student one of 10 selected by USDA to attend conference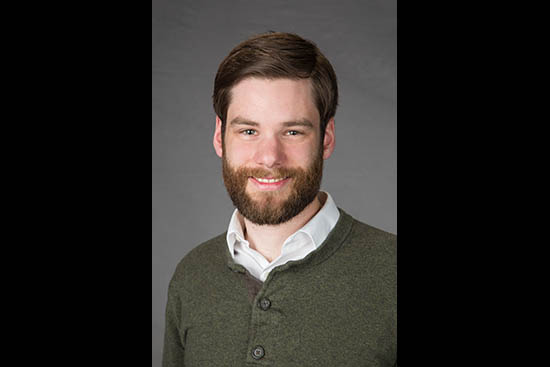 LEXINGTON, Ky.—
Kenton Sena will be heading to Washington, D.C., soon, one of 10 graduate students and 20 undergraduates selected to attend the 2018 Agricultural Outlook Forum as part of the U.S. Department of Agriculture's Student Diversity Program.
To enter the competition, Sena, a doctoral student in the University of Kentucky Department of Forestry and Natural Resources, submitted an essay addressing the greatest challenge facing agriculture over the next five years. His entry focused on invasive species with respect to forestry resources, which follows closely the research he has done on an invasive plant pathogen that causes root rot in American chestnut and other tree species.
Sena's adviser, Christopher Barton said his student exemplifies the best in graduate student achievements.
"Kenton has really made the most of his graduate school experience. He is constantly searching for ways to enhance his learning experience and better prepare himself for a professional career," said Barton, UK professor of forest hydrology and watershed management. "Along with this honor, Kenton was granted a National Science Foundation-East Asia and Pacific Summer Institutes fellowship to study in Australia; he was selected to do independent research with the U.S. EPA Wetlands Division and has been recognized several times by professional scientific organizations for his work. We are proud of Kenton's achievements and are excited about his future."
Sena is looking forward to opportunities at the forum to learn more about policy.
"I'm really interested in the interplay between science and policy," he said. "Here I am, doing research and teaching, but how does that relate to building policy, and how does policy control the kind of research that I can do and the kinds of questions I can ask? I'm hopeful they will address that."
For two days, Sena and the other students from around the country will meet with USDA senior leadership and staff at USDA headquarters, as well as engage in panel discussions and presentations. They will spend the following two days at the Agricultural Outlook Forum. Speakers at the forum will include Secretary of Agriculture Sonny Perdue, Akinwumi Adesina, president of the African Development Bank Group, Robert Johnasson, USDA chief economist and industry executives from DowDuPont, Pilgrim's, Cargill and PepsiCo, among others.
The Department of Forestry and Natural Resources is part of the UK College of Agriculture, Food and Environment. For more information about the department, visit its website, http://forestry.ca.uky.edu/. Sena's website is https://forestry.ca.uky.edu/kenton-sena.
The USDA Student Diversity Program exposes students to contemporary agribusiness, future trends, scientific research and agricultural policy. More information about the program, can be found online at https://www.usda.gov/oce/forum/diversity/diversity_program.htm.
---
Awards
Forestry