UK honors distinguished animal and food science alumni and installs two in hall of fame
UK honors distinguished animal and food science alumni and installs two in hall of fame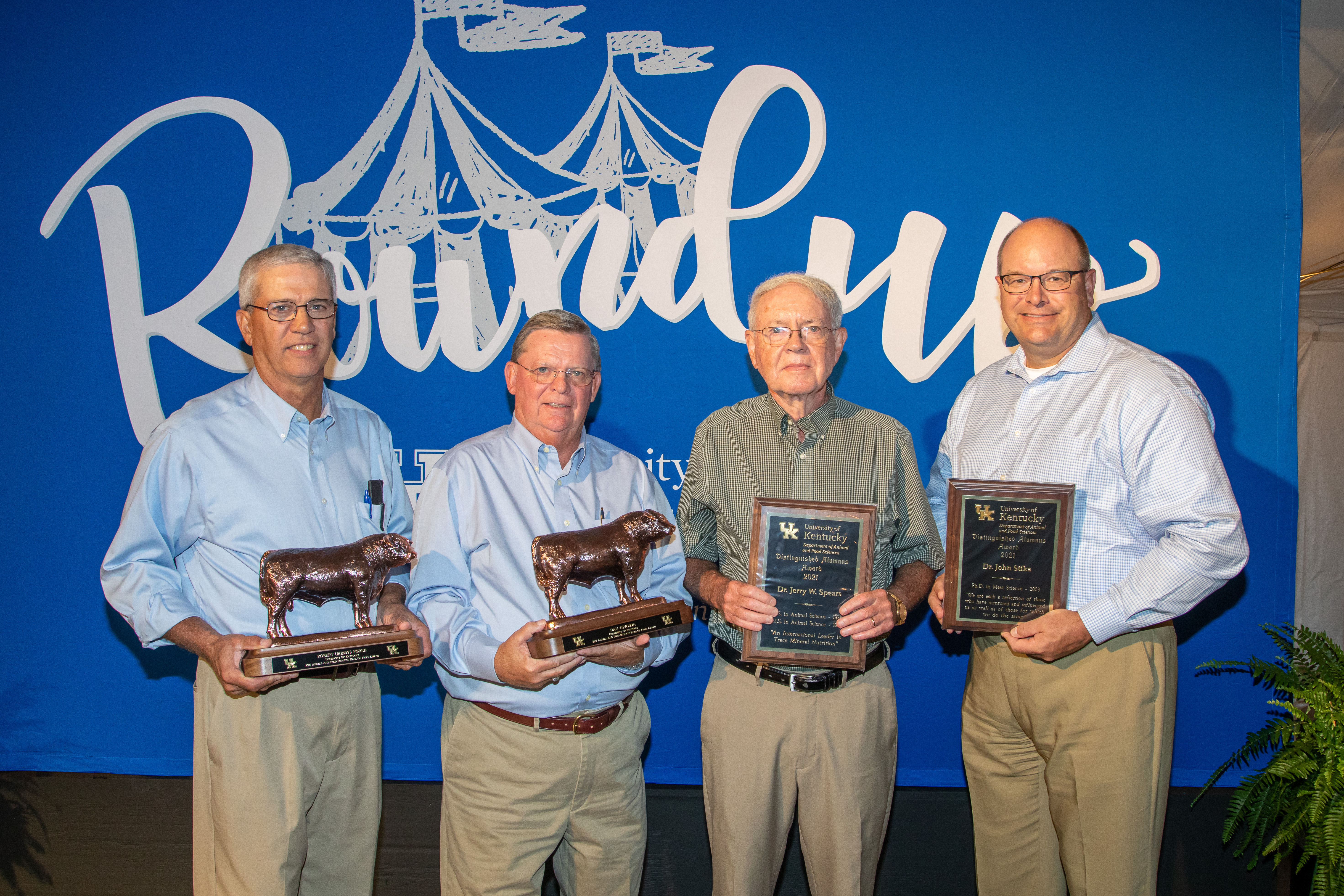 LEXINGTON, Ky.—
Recently the University of Kentucky College of Agriculture, Food and Environment's Department of Animal and Food Sciences bestowed honors on four individuals at its annual reunion on the Lexington campus. 
"Due to the COVID-19 pandemic we were not able to hold our reunion in 2020, so this year we presented four deserving individuals with our department's highest honors," said Richard Coffey, department chair. "We were excited to hold the reunion in person this year and see so many of our friends come back." 
Hall of fame inductee Robert (Bobby) Foree is a seventh-generation college graduate. He returned to the family farm in Henry County where he maintains a herd of 200 Angus cows and 40 Hereford-Angus crossbred cows managed for both spring and fall calving. Foree is also an attorney who advocates for his farming community. He serves on many committees and is a multiple award winner.   
Hall of fame inductee honoree Danny Joe Grigson is a native of Bracken County, where he grew up on a dairy, beef and tobacco farm. He served for 36 years as the Lincoln County extension agent for agriculture and natural resources and had a total of 42 years of service as an ag agent. He was encouraged to move into administration-level work many times but chose to remain on the county level helping people. Grigson earned a bachelor's degree and master's degree from UK CAFE.
Distinguished alumnus John Stika is the 22-year president of the Certified Angus Beef brand. Stika's love for Angus cattle, quality beef and the entire community of people involved from gate to plate is rooted in his experiences growing up on his family's small farm in central Kansas. He obtained his bachelor's and master's degrees in animal science and meat science, respectively, at Kansas State University, and then his doctorate in meat science from UK.  
Jerry Spears is also a distinguished alumnus. He received bachelor's and master's degrees in animal and food sciences from UK and then a doctorate in animal nutrition from the University of Illinois. Spears served on the faculty of North Carolina State University for 32 years, where he retired as a professor emeritus in 2012. He is an international leader in mineral nutrition in domestic animals.   
---
Alumni
Awards
Livestock