UK to host Fencing Schools in May
UK to host Fencing Schools in May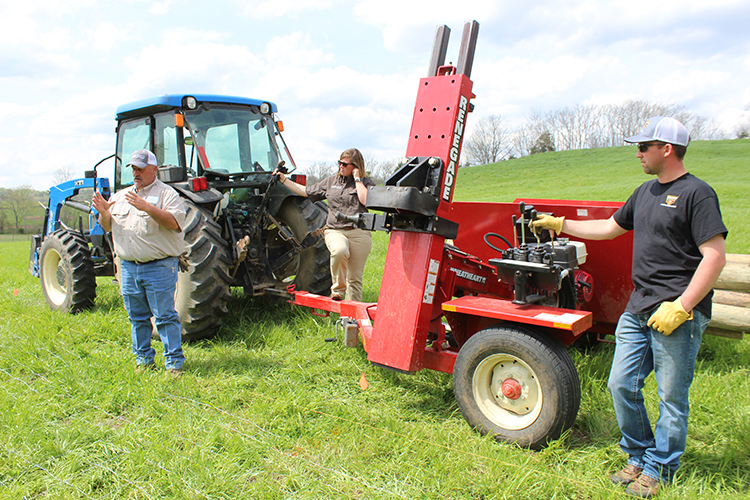 PRINCETON, Ky.—
The University of Kentucky will host two regional fencing schools this spring to help livestock producers learn the newest fencing techniques and sound fence construction. 
The 2021 spring schools will occur May 11 at the Christian County Extension office in Hopkinsville and May 13 at the Daviess County Extension office in Owensboro. The schools begin at 7:30 a.m. CDT and conclude at 4:30 p.m. CDT. 
Chris Teutsch, UK forage extension specialist, started these one-day events in 2018 in Kentucky to help producers improve their herd management. 
"If you have ever driven around the countryside, there are a lot of fences but not a lot of well-constructed ones," said Teutsch, extension associate professor in the UK College of Agriculture, Food and Environment. "One of the goals of this school is to help people get the basics of fencing down. That way they can build a strong, durable fence that will last 25 or 30 years, or if they decide to hire a contractor to build it for them, they will know what a well-constructed fence looks like." 
UK specialists and fencing industry experts will use a mixture of classroom instruction and hands-on demonstrations to teach producers the basics of a well-built fence. An added bonus of the school is that the techniques producers learn can help them qualify for cost-share dollars from the Natural Resources Conservation Service for new fence construction. 
Each school is limited to 30 participants, and the cost is $30 per person. This cost covers lunch, a fencing notebook and safety gear. Participants are encouraged to bring leather gloves for the hands-on portion of the school. Those interested in attending can register online at http://www.2021kyfencingschoolhopkinsville.eventbrite.com for the Hopkinsville school and http://www.2021kyfencingschoolowensboro.eventbrite.com to attend the Owensboro event.  Producers can also get the registration form from their local extension office and mail the registration form and payment to Carrie Thrailkill, UK Research and Education Center, 348 University Drive, Princeton, KY, 42445. 
Producers are encouraged to register early, as spots will fill quickly. The registration deadline for each location is two weeks prior to the workshop. 
During the event, participants must follow current masking and social distancing guidelines. 
The Kentucky Forage and Grassland Council, UK Cooperative Extension Service and Kentucky Master Grazer Educational Program organize and sponsor the schools. Additional sponsors include the UK Grain and Forage Center of Excellence, Kentucky Agricultural Development Fund and the Kentucky Beef Network. Industry partners include Stay-Tuff Fencing, Gallagher USA, ACI Distributors and Applegate Manufacturing. 
---
Crops
Events
Extension
Livestock