UK to host Wilderness First Responder Training Course at Raven Run
UK to host Wilderness First Responder Training Course at Raven Run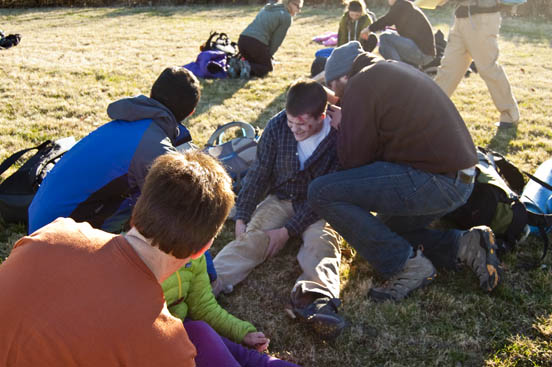 LEXINGTON, Ky.—
The National Outdoor Leadership School's Wilderness Medicine Institute is bringing their Wilderness First Responder Training Course back to the Bluegrass Jan. 2-10.
Sponsored by University of Kentucky Natural Resources and Environmental Science degree program in the College of Agriculture, Food and Environment, the course will be held at Raven Run Nature Sanctuary in Lexington.
A wilderness first responder training course is essential for anyone pursuing a professional career in the outdoors. Wilderness medical certification is required for a variety of jobs and internships, including a position on a restoration crew, resident wilderness educator, internships in conservation and clean water, ecology, research and education and in schools for field studies.
"Working in a natural setting can mean spending extended periods of time in remote locations. Anyone thinking of such a career should consider taking this course," said Geri Philpott, academic coordinator for Natural Resources and Environmental Science. "The wilderness first responder certification gives our students a leg up in the job market and prepares them for medical emergencies in the field. This is really the industry standard for educators, guides and trip leaders in the outdoors education field or outdoors recreation,"
The nine-day course is not just open to UK students. Participants from around the country came to Lexington the past two times UK offered the program. The training includes a comprehensive wilderness medicine curriculum that focuses on extended care and unique wilderness therapies. Participants will increase their medical knowledge, skills and confidence, and they will complete the course with the ability to make tough medical decisions in remote places.
Students will receive more than 80 hours of contact time, taught by experienced professionals using teaching methods that include both lectures and hands-on, experiential workshops and scenarios. One of the highlights of the course is a mock rescue at night, where students will experience what it takes to evacuate an injured or ill person from a backcountry setting.
Those who pass the written and practical exam at the conclusion of the course will receive a Wilderness Medicine Institute's Wilderness First Responder two-year certification as well as a WMI Adult and Child CPR certification. Emergency medical technicians will earn a Wilderness EMT certification.
For more information or to register, go to http://nres.ca.uky.edu/wfr or contact Geri Philpott at 859-257-2337 or geri.philpott@uky.edu. The fee for the course is $650 for UK students, faculty and staff and $700 for non-UK participants. To ensure a place, registration is due by November 25.
---
Environment
Forestry