UK lecture series presents conversation with accomplished equestrienne Misdee Wrigley Miller
UK lecture series presents conversation with accomplished equestrienne Misdee Wrigley Miller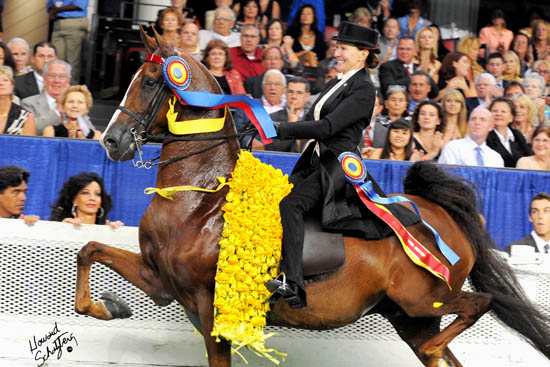 LEXINGTON, Ky.—
Misdee Wrigley Miller, winner of two American Saddlebred world horse championship titles and the first rider to win the three-gaited "grand slam," as well as a Team USA member at the 2014 World Equestrian Games in combined driving, will speak at the University of Kentucky Ag Equine Programs' next Distinguished Industry Lecture Series at 6 p.m. EST Feb. 9 in the Gluck Equine Research Center's auditorium on the UK campus.
Sponsored by Hagyard Equine Medical Institute, the event is free and open to the public.
"It is a great honor to have Ms. Miller participating in this special lecture series, joining a group of luminaries in the equine industry," said UK College of Agriculture, Food and Environment Dean Nancy Cox. "I share the excitement of the UK Ag Equine Programs students who requested her participation in the Distinguished Industry Lecture Series. As always, the college is dedicated to this industry and appreciates the sponsorship of Hagyard Equine Medical Institute for making this event possible."
Wrigley Miller is a fourth generation horsewoman who owns and operates Hillcroft Farm with her husband in Paris, Kentucky, and Sarasota, Florida, where they raise American Saddlebred and Thoroughbred horses.
In addition to her accomplishments in the Saddlebred horse world, including being named a United States Equestrian Federation Equestrian of Honor in 2015, Wrigley Miller has also competed in the top echelons of the sport of combined driving. In 2014, she was part of a team representing the United States in the Alltech FEI World Equestrian Games in Normandy, France, where the U.S. team finished fourth.
"It is rare to reach the pinnacle in one equine pursuit, much less multiple ones. It is a privilege to welcome Misdee Wrigley Miller to share her experiences and encouragement with our students as they become equipped to serve as tomorrow's leaders in the equine industry," said Jill Stowe, director of UK Ag Equine Programs.
Wrigley Miller began her equestrian career with her family's Arabian horses in Scottsdale, Arizona. As a competitor during that time, she won numerous awards and national titles, and her family's farm was well-known around the country for their quality horses.
She graduated from Arizona State University with a degree in broadcast journalism, and after working for a time as a reporter, she returned to the horse business in a management position, as well as an owner and competitor. She is also the co-owner of Post Time Productions in Lexington, where she still has a hand in writing and producing videos.
The Distinguished Industry Lecture Series began in the fall of 2009 and has become a signature event of UK Ag Equine Programs. It is designed to showcase important figures from the equine industry in an informal setting.
Previous series speakers included Keeneland's Nick Nicholson, accomplished equestrienne Nina Bonnie, Keeneland's Ted Bassett, Zenyatta owners Jerry and Ann Moss, Olympian Reed Kessler, a double header featuring both Thoroughbred trainer Graham Motion and three-day eventer Buck Davidson, and reiner Shawn Flarida.
---
Equine
Events