UK Names Laboratory for Animal Science Professor
UK Names Laboratory for Animal Science Professor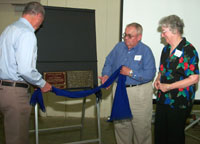 LEXINGTON, Ky.—
The University of Kentucky College of Agriculture has honored the memory of a respected animal science professor who died in May, 2001 by naming a laboratory after him.
Faculty, administrators, family and friends gathered recently to dedicate the Patch G. Woolfolk Laboratory at UK's state-of-the art sheep facility located at its Animal Research Center. Woolfolk was a well-known College of Agriculture faculty member from 1953 until his retirement in 1986.
"I never knew anyone who had such cooperative spirit, the kindness, and the desire to treat everyone the same," said Charles Barnhart, retired College dean and longtime colleague. "Students loved him, and he would always take the time to listen to them and help them out with any type of problem they had."
Woolfolk taught several courses at the undergraduate and graduate levels, including Livestock Breeds, Feeds and Feeding, and Sheep Production and Seminar. During the time he was in charge of UK's sheep education programs, Kentucky's sheep industry grew to one of the best in the nation. He was a judge at several major sheep shows and fairs, and was known for his high level of dedication.
"The professor had a passion for his subject, and a passion to see that his students learned the material," said James Mahan, a farmer who was a student of Woolfolk's in the 1960s. "There's no doubt the family atmosphere we are so proud of in our College of Agriculture traces back to people like Dr. Patch Woolfolk."
Woolfolk was an active member of the American Society of Animal Science for 39 years, and was unanimously elected by colleagues to the Animal Science Hall of Fame in 1989.
His wife, Miriam, attended the laboratory dedication and accepted the honor on behalf of her late husband.
"His spirit is with us here today, and Patch would be very pleased," she said.