UK offering free urban tree workshops for neighborhoods
UK offering free urban tree workshops for neighborhoods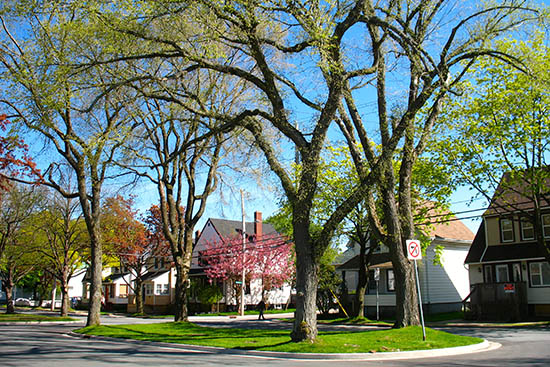 LEXINGTON, Ky.—
A thriving tree canopy can be a real asset to a neighborhood, but maintaining that lush resource might seem daunting at times. Storms, invasive species, diseases and an aging tree population can all take their toll. To help neighborhoods protect their trees, the University of Kentucky's Urban Forest Initiative is offering free urban tree health and care workshops to neighborhoods in 20 Central and East Central Kentucky counties from June through August.
The two-hour hands-on training and survey session will focus on various urban-tree related topics, such as benefits derived from trees, urban tree health characteristics and ways to support canopy health. By participating in the workshops, neighbors will become a part of a community of tree ambassadors in their towns.
Workshops will take place on-site in the neighborhoods, and workshop leaders will tailor the information to each area's unique tree canopy.
In addition to the urban tree workshop, the Urban Forest Initiative is teaming with UK's Environmental and Natural Resource Issues task force and the Fayette County Cooperative Extension office to offer combination workshops focusing on urban trees and lawn nutrient management.
"In Fayette County, data has shown that most homes and gardens exceed maximum recommendations for phosphorus. Over fertilization of lawns can result in nutrient dense storm water runoff, which can lead to impaired water quality," said Grace Coy, coordinator of the urban tree workshops.
Those who elect to add the additional workshop, No P on My Lawn, will learn the risks of over fertilization, while learning to assess and manage nutrients in the home landscape. Neighborhoods taking combination workshops will have the option to sign up to receive free soil testing that will potentially help jump-start lawn nutrient management plans.
Workshops are offered in the following counties: Anderson, Bourbon, Boyle, Clark, Estill, Fayette, Franklin, Garrard, Harrison, Jessamine, Lincoln, Madison, Mercer, Montgomery, Nicholas, Owen, Powell, Scott, Shelby and Woodford.
Time and location of individual sessions is flexible and can depend on each group's preferences. If interested, fill out the registration form online at http://ukntrees.ca.uky.edu/summerworkshops. For additional information, contact Coy at grace.coy@uky.edu.
The Urban Forest Initiative is a working group of UK's Tracy Farmer Institute for Sustainability and the Environment. Its mission is to advocate for and elevate the function, value and perception of urban forests in the Bluegrass region. The initiative's founding members, Mary Arthur and Lynne Rieske-Kinney, professors of forest ecology and forest entomology, respectively, are on the faculty of the UK College of Agriculture, Food and Environment. More information about the Urban Forest Initiative can be found at https://ukntrees.ca.uky.edu/.
---
Entomology
Environment
Forestry