UK - OSU Zoo Display Highlights Integrated Pest Management
UK - OSU Zoo Display Highlights Integrated Pest Management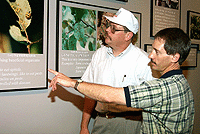 The value of insects to our lives is enormous. But insects can occasionally cause us problems, particularly when we're trying to grow our plants and flowers. Control is often required.
"The main objective of this display is to help educate the public about IPM," said Monte Johnson, Extension entomologist in the UK College of Agriculture. "IPM is a philosophy of pest control that involves a variety of control methods that are effective while still being sensitive to the environment."
With IPM, a specific landscape problem is first identified. If it's an insect problem (as opposed to a weed problem), one or more control options may be used. These options may be cultural, such as using plants that are resistant to certain pests, or biological, such as introducing beneficial insects that may feed on the pest insect. Control could also include genetic, mechanical, regulatory, or chemical options depending on specific conditions or requirements.
The display, housed in the Zoo's renowned "World of the Insect" exhibit, adds another dimension to the public's understanding of bugs. "We're trying to show insects in perspective," said Milan Busching, curator of invertebrates for the Zoo. "We're already showing how they're important to nature and to humans. But with this new IPM display we're also showing what to do about the few insects out there that are pests and that humans need to deal with."
"This insect zoo is one of the finest in the world, and we're extremely happy we could work with the Zoo and UK to make this happen," said Joe Boggs, OSU commercial horticulture agent. "Combining talent and resources makes things more efficient, and helps taxpayers get the most for their money. It's also a lot of fun."
The display consists of a series of poster-size, wall-mounted illustrations and photographs that detail the IPM approach. Ultra close-up photography allows children and grownups to see colorful landscape pests several hundred times larger than actual size.
"We started building it about a year ago," said Ryan Gugeler, UK Extension public relations and design specialist. "Normally for our college events we build free-standing displays that are only used for a week or two. This zoo display is a more permanent display, designed to give enjoyment to the public for several years."
More than one million people visit the Cincinnati Zoo each year. Zoo officials estimate that up to 10,000 people pass through the insect exhibit daily.