UK researcher takes home prestigious agricultural engineering award
UK researcher takes home prestigious agricultural engineering award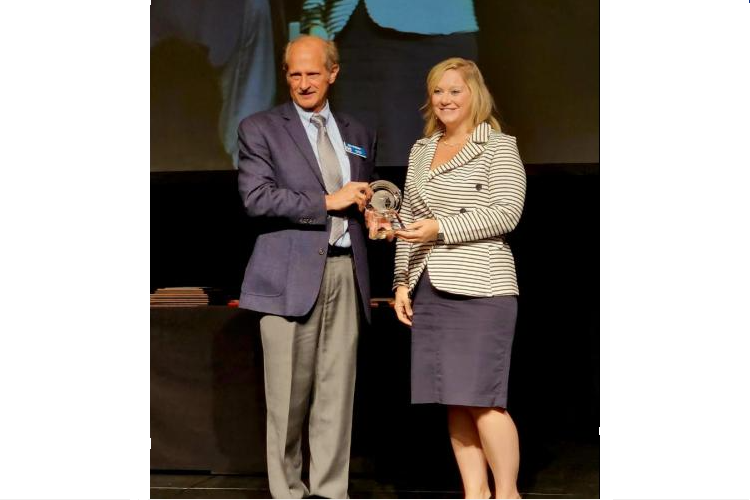 LEXINGTON, Ky.—
The American Society of Agricultural and Biological Engineers recently awarded the Gale A. Holloway Professional Development award to a University of Kentucky College of Agriculture, Food and Environment researcher.  
Tiffany Messer, an assistant professor in the UK Department of Biosystems and Agricultural Engineering accepted the award at the association's annual meeting in Houston, Texas. 
The ASABE, a non-profit, educational and scientific organization whose members work to improve agricultural, food and biological systems through engineering, was established in 1907, and currently has members from more than a hundred different nations. The award recognizes outstanding leadership and active involvement for early ASABE career members. 
"I am very humbled to receive the award and grateful to the very special people who mentored, nominated and supported me," Messer said. 
Messer is currently a fellow of the UK Center for Appalachian Research in Environmental Sciences, an organization that aims to enhance collaborations among researchers and citizen scientists on UK's Lexington campus and in Appalachian communities to further environmental health research. 
A 17-year member of ASABE, Messer began her leadership in the organization as an Ag Student Council Representative for the UK BAE student branch before moving into numerous other roles, including president of the UK BAE. After her time at UK, where she graduated with a bachelor's in BAE, Messer served four years as the ASABE student branch faculty mentor at the University of Nebraska – Lincoln, where she received the Parents Recognition award and the College of Engineering Research recognition and was named a Daugherty Global Institute Water for Food fellow. She also served as the Nebraska Section ASABE president.  
Messer served as an associate editor for the ASABE's Transactions, a peer-reviewed journal of research advancing agricultural, food and biological systems engineering, and as chair of the ASABE ecological engineering and digital strategy committees. Currently, she serves as chair of the streams, reservoirs and wetlands committee. She is also a longtime member of the ASABE nominating committee, which assists in nominating ASABE national presidents. 
In 2021, Messer received the CAREER award from the National Science Foundation to develop an outreach and research program to address nutrient, antibiotic and pesticide impacts on Kentucky surface waters. 
Messer believes that UK's Department of Biosystems and Agricultural Engineering has given researchers the education and experience they need to achieve prestigious awards. 
"The Biosystems and Agricultural Engineering Department has always made it a priority to create a holistic learning environment and create a family-like culture between faculty, staff and students," Messer said. "I believe these traits are engrained into their graduates." 
The ASABE created the award to honor Gale A. Holloway, former organization president and former ASABE Foundation president. The organization first bestowed the award in 2008 to recognize Gale's commitment to helping professionals and early-career ASABE members become active participants in the organization. 
---
Awards
Biosystems Ag Engineering