UK Signature Industries Career Fair successfully matches job seekers with opportunities
UK Signature Industries Career Fair successfully matches job seekers with opportunities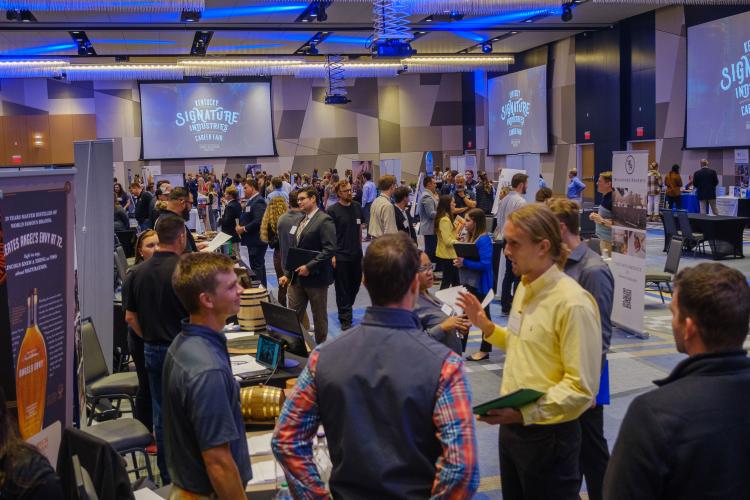 Lexington, Ky—
For the first time, the University of Kentucky College of Agriculture, Food and Environment hosted a reimagined career fair featuring two of the state's most iconic industries: equine and bourbon. The update was a popular one.  
The 2022 UK Signature Industries Career Fair on Sept. 29 was open to job seekers both inside and outside of UK and more than 400 participants took advantage of the opportunity. The fair saw participation from 15 different regional colleges and universities and more than 150 recruiters representing 60 employers from the equine and distilling industries.  
"I was struck by how many of our students benefited from these programs working together in creative ways and by the support our most iconic Kentucky industries give to our college and its students. It is gratifying to know we are providing opportunities that benefit Kentucky's equine and bourbon industries well into the future," said Nancy Cox, Vice President for Land-Grant Engagement and dean for the UK College of Agriculture, Food and Environment. 
Both the equine and distilling programs have held separate, well-attended career fairs in past years, but this year was the first time the two industry-focused programs combined forces.  In addition to students from outside UK, students from 10 different UK colleges were present, representing 53 different undergraduate and professional majors.  
"We are so excited to see the combination of Kentucky's signature industries come to life in efforts to recruit job seekers and highlight career opportunities within each industry," said Savannah Robin, internship coordinator within the equine science and management undergraduate degree program and event co-organizer. "It was a natural fit and we are excited to see how highlighting these industries can continue to shine a light onto the opportunities available.   
Robin said developing the professional capacity of undergraduate students is essential to their future career success.  
"One of the important skills to develop is networking and relationship building," she said. "This career fair is a way to allow students the opportunity to not only practice their skills in real life but truly start building relationships with future employers early on. Watching our students shine as they engaged with stakeholders at the event was one of the highlights of my own career."  
"We are excited to have hosted the distillation, wine and brewing portion of the Kentucky Signature Industries Career Fair for the first time since the start of the COVID pandemic," said Ilka Balk, associate director of the James B. Beam Institute for Kentucky Spirts and event co-organizer. "The strong employer participation shows that there is a great need for talent in the distillation, wine and brewing industry.   
Balk said students are well-prepared through the UK Distillation, Wine and Brewing Certificate program to fill the industry's need for talent, and this fair gave many attendees them the first opportunity to show employers their abilities.  
Students and alumni from all Kentucky schools who are interested in the industry were able to meet with employers and market their skill sets as well. The industry is growing exponentially, and there is room for many disciplines and backgrounds. We thank the Kentucky Distillers' Association for their support for this fair and their investment in the distilling talent of the future." 
"Kentucky's important cultural heritage in both areas reflects a long and deep history.  Horses and distilled spirits truly are signature industries for the Commonwealth," said James MacLeod, UK Ag Equine Programs' director and professor in the Department of Veterinary Science. "Yet something very evident from this event is the growth and diversity of career opportunities across multiple STEM, social and business disciplines. In addition to their historical and cultural significance, it is clear that these two industries will continue to provide valuable economic opportunities for Kentucky citizens going forward." 
Equine industry sponsors included Kentucky Thoroughbred Association/Kentucky Thoroughbred Owners and Breeders and Kentucky Equine Education Project Alliance. Distilled spirits industry sponsors included the Kentucky Distillers' Association, Beam Suntory, Joseph & Joseph Architects, Wild Turkey, C&I Engineering, Michter's Distillery, River City Distributing and Southern Distillers.  
Equine employers present included Ardent Animal Health, Avanti Equine, Central Kentucky Riding for Hope, Claiborne Farm, Ed Brown Society, Equine Land Conservation Resource, Gluck Equine Research Center, Hallway Feeds, Hagyard Equine Medical Institute, Hooves of Hope, Horse Country Tours, Justin's Place, KEEP Foundation, Lincoln Memorial University, Keeneland Association, Kentucky Equine Management Internship, Kentucky Equine Research, Kentucky Horse Park, Lanes End Farm, McMahon & Hill, Midway University, Morehead State University, New Vocations, Rood & Riddle Equine Hospital, SKIPPED, Spy Coast Farm, Taylor Made Sales Agency, Three Chimneys Farm, UK Ag Equine Programs, UK Experiential Learning, UK Cooperative Extension, UK MBA Program, UK Horse Pasture Evaluation Program, University of Louisville Equine Industry Program, U.S. Department of Agriculture – National Ag Statistics Service, U.S. Hunter Jumper Association and Wildcat Network. 
Distilling employers present included Augusta Distillery, Bardstown Bourbon Company, Beam Suntory Inc., Bluegrass Distillers, Brown-Forman Corporation, C&I Engineering, Independent Stave Company, Jeptha Creed, Joseph & Joseph Architects, Lexington Brewing & Distilling Co., Louisville Distilling Co. LLC, MGP Ingredients, Inc., MGP Ingredients, Inc., Michter's Distillery, LLC, Ponfeigh Distillery, LLC, River City Distributing, Inc., Sazerac Company, Southern Distilling Company, West Sixth, Wild Turkey Distilling Co. and Willett Distillery. 
---
Equine