UK student athletes participate in life reality exercise
UK student athletes participate in life reality exercise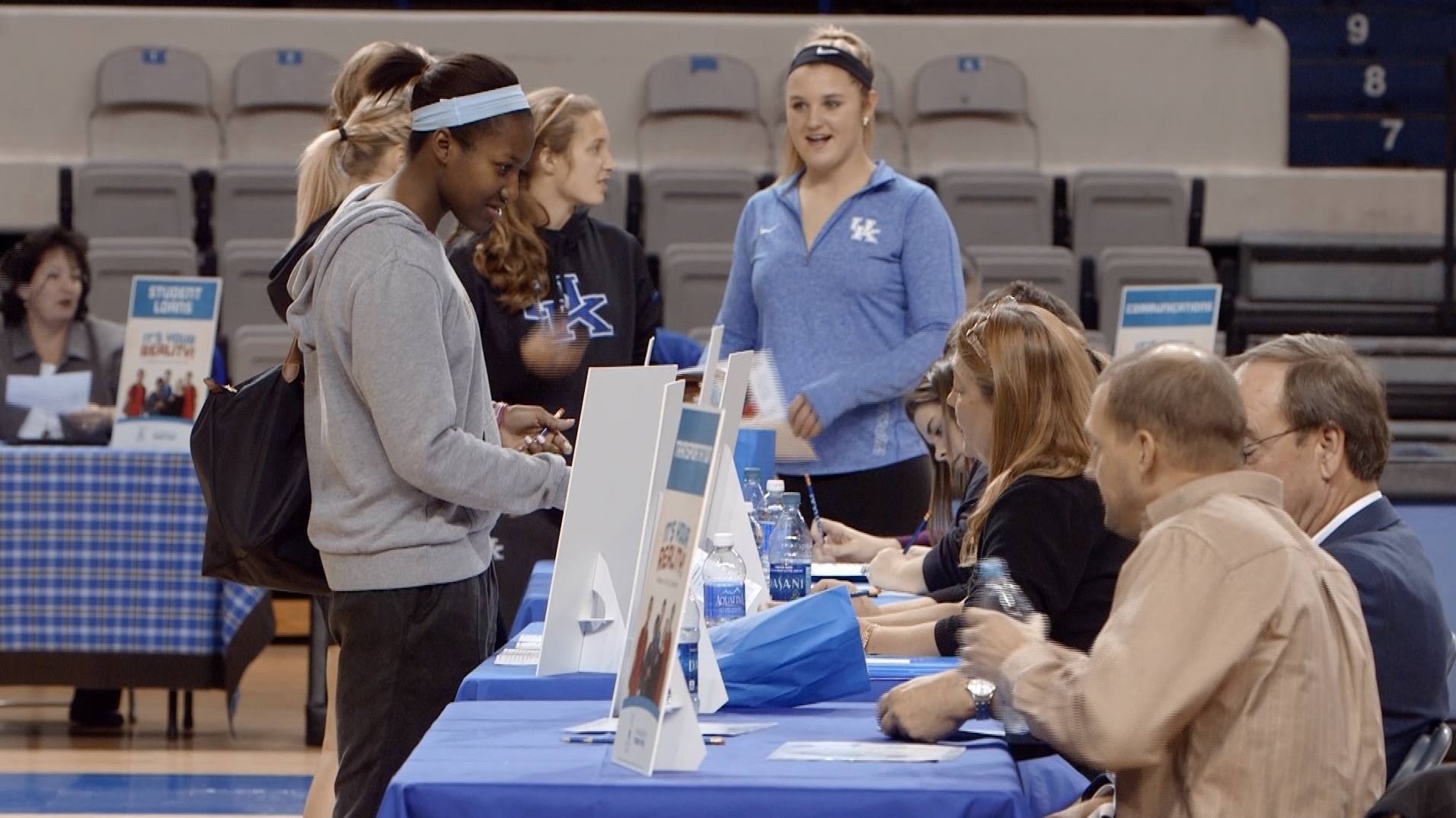 LEXINGTON, Ky.—
University of Kentucky baseball player Zach Strecker, a junior from Louisville, was halfway joking when he said he would give up life insurance in his budget so he could keep a streaming television service. He was participating in an exercise called It's Your Reality, put on for UK student athletes by the UK College of Agriculture, Food and Environment.
When students arrived at Memorial Coliseum, they learned the average starting salary for a job within their major. They walked through a series of "storefronts" to spend that salary on such items as insurance, childcare, groceries, utilities, taxes, entertainment, clothing among others.
"This is a unique program for student athletes," said Jennifer Hunter, assistant professor in the Department of Family Sciences. "They learn about cost of living and financing their lifestyle. We know that some of them will go on to careers in sports, where they will earn a lot of money, but most will go into careers related to their major with more average salaries. We want all of them to know how to manage their salary, big or small."
UK Athletics prioritizes teaching life skills to student athletes in many ways. Dustin Lewis is the UK Athletics life skills coordinator. He said his main priority is helping students formulate their plan for life after college in the areas of financial literacy, community service and personal development.
"Hopefully this exercise will get the wheels turning and get them thinking about life once they get out of school," he said. "For many of them, this is their first time thinking about a budget. Many of them have only had to think about food and rent. The mission of our program is to expose them to different issues they will face while students and after they graduate and to think about things other than themselves. It's true that 99 percent of student athletes will go pro in something other than athletics."
Hunter said she has found that most college students have unrealistic expectations of their starting salaries and the real cost of things.
"This is sometimes the first look at the true cost of the lifestyle they want," she said. "Maybe up until now, mom and dad have been taking care of those expenses for them and giving them a little extra for clothing, entertainment etc., and they've never put all those costs together."
Ayanna Parker is a junior who plays soccer. She went through the entire exercise and stayed in the black, but only by about $3. She was happy with that, because she stayed within her means.
"I was surprised by food and clothing (costs)," she said. "They said to be honest, and I was pretty honest. My clothes ended up being about $225 and food, even though I was on a moderate plan, was about $300. That didn't include eating out; it was just for groceries. It really opens your eyes and makes you see that you really have to plan out everything so you don't overspend."
Parker said she was going to just try and buy only what she needs and stick to the bare minimum so she could save for a rainy day or bigger ticket items she may want in the future. As for Strecker, he said he learned that some things won't come right away after graduation.
"I probably won't go buy a house in the first few years," he said. "I'll probably keep the same car for a while."
Hunter adapted the program from the 4-H Reality Store program. Adaptations included things college students will have to incorporate, such as student loans.
"Our primary goal is to help them understand the true cost of the lifestyle they want to have in the future and how to start financing that lifestyle now," she said. "We want them to understand the impact of credit card debt and student loan debt now. We encourage them to live within their means now so that when they graduate, they won't have a lot of debt and they'll be able to live like the professional they want to be after college.
---
Events
Family Consumer Sciences