UK Student Center coffee tables preserve heritage of site
UK Student Center coffee tables preserve heritage of site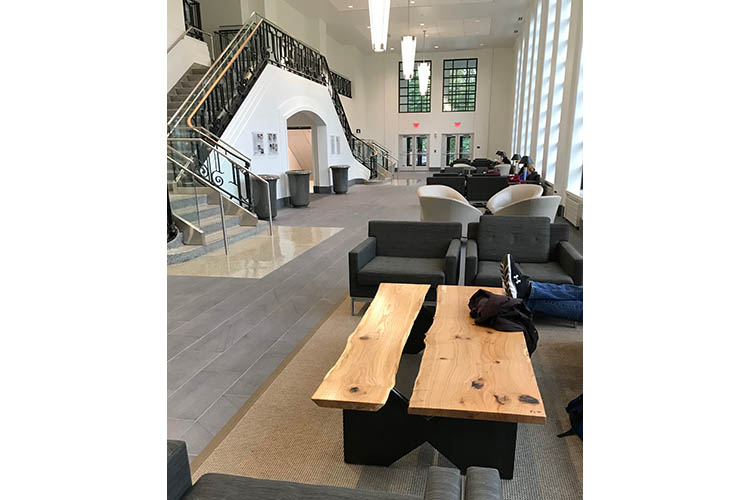 LEXINGTON, Ky., — Generations of students passed beneath the shade of pin oak trees on the University of Kentucky campus, rushing to class, strolling with friends or studying beneath their branches on a warm, spring day. But when the new and expanded Gatton Student Center went up, several of the trees had to come down. Their story doesn't end there, though, because students will continue to enjoy the benefits of those venerable trees through handmade coffee tables constructed from their wood.
Designed and built at UK's Wood Utilization Center in Quicksand, the tables contain within their 100-year-old-grain and meticulous design both an environmental timeline of UK's campus and the skills found in Appalachian culture.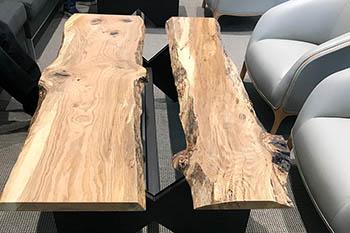 The Wood Utilization Center is a component of the Robinson Center for Appalachian Resource Sustainability, the College of Agriculture, Food and Environment's experiment station in Eastern Kentucky. It contains an industrial hardwood furniture manufacturing laboratory, classrooms, computer laboratory and a kiln for drying hardwood lumber.
When the university administration wanted to find a new use for the old tree, Jeff Stringer, chair of the Department of Forestry and Natural Resources, eagerly complied. While trees that are downed for construction purposes often become mulch or firewood, these particular pin oaks were to have a place of honor as functional art in the new student center. As such, the carbon stored within the tree stays within the wood, rather than being released to the atmosphere, a win-win situation.
"Wood is carbon, so there are positive impacts made when wood is used in products and building," said Chad Niman, UK primary wood products specialist. "It can be reused, it can be reclaimed. The forest itself is renewable, but these products are recyclable, they're biodegradable, they're natural, all those great words that we like and that make our world healthier."
And while these pin oaks were not part of a great forest, they still serve a role as part of a well-planned sustainable system.
Once harvested, the logs were loaded onto a flatbed trailer and hauled to the Wood Utilization Center in Breathitt County, where longtime center craftsman Doran Howard used a portable sawmill to cut the wood into slabs for the live-edge tabletops. With skill born from experience, Howard turned round-gnarled logs into smooth slabs. The tree showed some early signs of decay, called spalting, but that wasn't a problem. Spalting in the sapwood, the living part of trees, can lend color, texture and character to wood.
Cut to size, the slabs were stacked to allow proper air flow to slowly dry the wood, a process that took up to six months. To finish the critical drying process, Niman transported the slabs to Shelby County where Bagdad Lumber graciously provided final drying in their kilns. Returned to the Wood Utilization Center after kiln-drying, the slabs were smoothed, buffed and finished.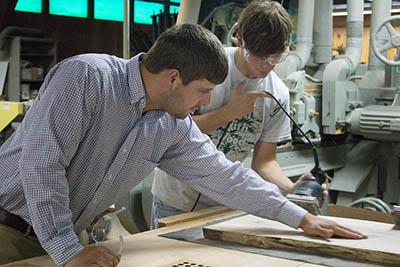 UK students traveled from Lexington to the wood center to help sand the slabs and prepare them for finishing. The entire process took more than a year to complete. Stringer said it meant a lot to the Department of Forestry and Natural Resources to be able to contribute to the new student center, while educating students in the process.
"We were happy to contribute not only funding, but also our expertise in the manufacturing process, so students can enjoy the legacy of these trees for years to come," he said. "Secondary wood industries, of which manufacturing is one, are an important part of Kentucky's economy. In forestry extension, we're proud to have our work serve as an example, and we're devoted to providing instructional opportunities for the state's wood industries."
As students spread their books and backpacks on these tables, they become part of a long legacy. From tree to functional art, the coffee tables made by a College of Agriculture, Food and Environment outreach program are a bridge that connects generations of University of Kentucky students.
---
Environment
Forestry
Sustainability