UK student completes prestigious USDA international internship
UK student completes prestigious USDA international internship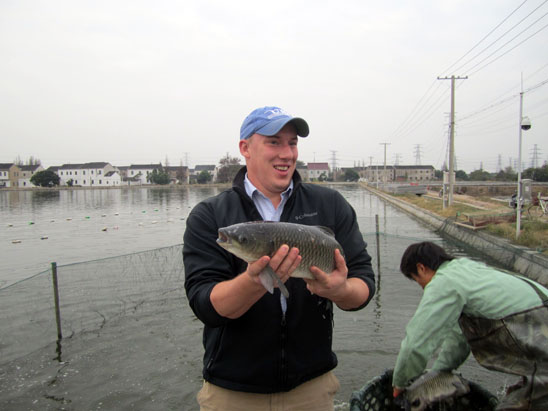 LEXINGTON, Ky.—
John Orlowski, a University of Kentucky doctoral student in crop science, had a once-in-a-lifetime opportunity when he was selected as an intern for the U.S. Department of Agriculture in China.
Orlowski, of Perth, N.Y., was one of eight graduate interns selected to serve in a USDA office in a foreign country. More than 250 graduate students from across the United States applied for the opportunity. At the UK College of Agriculture, Food and Environment, Orlowski is conducting research on high-yielding soybeans under the direction of grain crops extension specialist Chad Lee.
While in China, Orlowski was stationed at the USDA Office of Agricultural Affairs at the U.S. Embassy in Beijing. There, his assignments included working with policy issues related to the Chinese ban of U.S. beef imports due to concerns about bovine spongiform encephalopathy.
"A lot of the policy issues that the U.S. deals with China about are based on science," he said. "I was involved with technical level discussions about food safety and controlling BSE."
In addition, Orlowski worked closely with the U.S. Soybean Export Council's office in Beijing. Soybeans are the top single commodity the U.S. exports to China, bringing in $15 billion in 2012. In China, soybeans are used for oil and animal feed. Due to an improved standard of living, the Chinese diet is shifting away from grain staples to include more meats and oils.
While working with the council, he saw the harvest of grass carp, a very popular fish in China.
"There's a lot of aquaculture in China, and they are trying to change the fishes' diets so they consume more U.S. soybeans and U.S. corn instead of grass," he said. "The soybean export council is investing in more modern aquaculture production techniques in China. They did a demonstration in Shanghai and tripled fish yields. They were fed a diet consisting of mostly U.S. soy."
He also had the opportunity to meet and attend events with Michael Scuse, the USDA undersecretary for farm and foreign agricultural services, and meet Secretary of Agriculture Tom Vilsack and Vice President Joe Biden.
---
Crops