UK undergrad receives Alltech Young Scientist award
UK undergrad receives Alltech Young Scientist award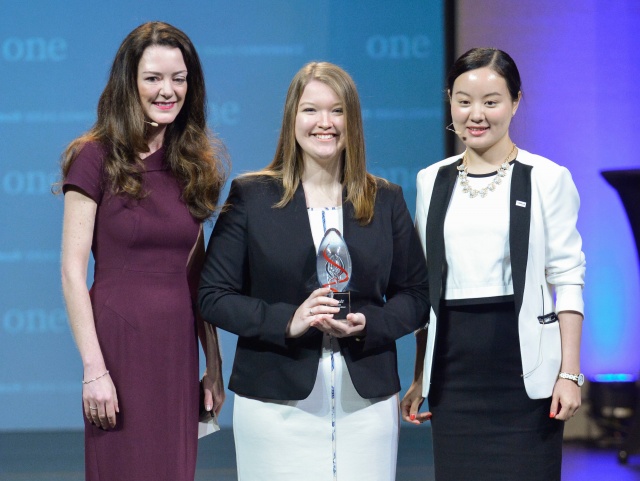 LEXINGTON, Ky.—
Alonna Wright, a junior in the University of Kentucky's College of Agriculture, Food and Environment, recently received the Alltech Young Scientist award. The global contest focused on rewarding scientific genius and recognizes future applications in the agri-science sector.
The agricultural biotechnology student from Morgantown, Ky., was selected based on her research in the biological control of agricultural pests. Wright works with a genetically selected, mutant form of a nudivirus that could help control corn earworm. In one-third of the cases in nature, virus infection results in insect sterility. The genetically selected form causes an insect sexually transmitted disease resulting in 100 percent sterility. This could give a boost to the naturally occurring virus to make it more effective.
The corn earworm causes an estimated $2 billion in damage and control costs each year. UK entomologist Bruce Webb nominated Wright for the award, which includes a fully funded doctoral program and $5,000.
This year, the program received 191 nominations representing 117 universities from 42 countries. Each student first competed within their own region of North America, Latin America, Asia Pacific, or Europe and Africa. To participate, students were nominated by their professors and submitted scientific papers on topics such as animal health and nutrition, crop science, agriculture analytical methods, food chain safety and traceability, human health and nutrition, and other agri-science related sectors.
Aoife Lyons, director of educational initiatives at Alltech, and Victoria Liu, Alltech Young Scientist program manager, presented the award during ONE: The Alltech Ideas Conference.
"This year, we encouraged students to think about the ONE big idea that will help future generations and to search for solutions today to meet the challenges of tomorrow," Lyons said. "On behalf of the judges, I congratulate these winners for rising to the challenge set to them. They demonstrated huge skill, insightful thought and, of course, their potential as scientific leaders of tomorrow."
---
Awards
Entomology