UK Water Week 2018 focuses on community engagement
UK Water Week 2018 focuses on community engagement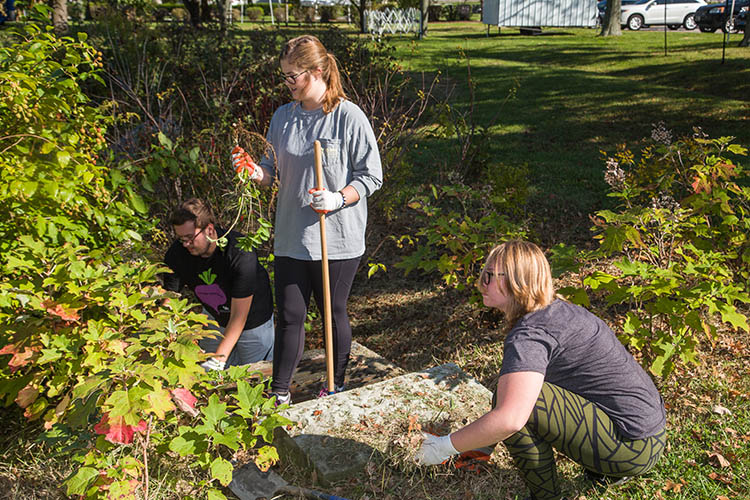 LEXINGTON, Ky., — Water. For many people, it flows from the tap, pure and plentiful, and not given more than a passing thought. That isn't the case for all, however, either here or abroad. More than 3.4 million people worldwide die annually from diseases that stem from contaminated water. The University of Kentucky's Water Week 2018, Oct. 15–19, will focus on humanitarian efforts and community engagement in the struggle to provide all people with access to clean water.
A week of films, panel discussions, invited speakers and service activities, Water Week is a collaborative effort by UK's Tracy Farmer Institute for Sustainability and the Environment and Kentucky Water Resources Research Institute.
"Every single person lives in a watershed and plays a role in maintaining the health of that watershed," said Carmen Agouridis, extension associate professor in the UK Department of Biosystems and Agricultural Engineering and one of the leads of Water Week. "Through the week's activities, we try to show how our individual actions can have a positive impact on the watershed, but also being aware of actions that have a negative impact. We wanted people to see how they could take individual, small actions to better the health of their watershed."
Mark Hogg, founder and CEO of Waterstep, and Greg Heitzman, president of BlueWaterKy, will kick off the week with the keynote lecture from 6-7 p.m. Oct. 15 in Room 330AB of the Gatton Student Center on the UK campus. BlueWaterKy is a management consulting firm serving the water and wastewater industry. Waterstep trains people in developing countries to use simple tools to provide safe water solutions for their communities.
As part of this year's community engagement theme, the water systems working group in the Tracy Farmer Institute is holding a shoe drive through Friday, Oct. 19, collecting new and used shoes to be donated to WaterStep to fund access to clean water. Collection bins are located throughout campus.
A Project WET certification workshop for K-12 teachers, Cooperative Extension agents and students who are interested in teaching about water will take place from 9 a.m. to 4 p.m., Oct. 16 at E. S. Good Barn on the UK campus. The registration fee is $55, and lunch and snacks will be provided. More information and the registration form is available online at http://www.uky.edu/bae/cpd.
Beginning at 5:30 p.m. Tuesday, Oct. 16, there will be a screening of the film, "Before the Flood," in the UK Athletic Association Auditorium in W. T. Young Library. After the screening, Shane Tedder of the UK Office of Sustainability will lead a panel discussion.
Other panel discussions during the week include Coming Down the Pipe, led by the student group Divest, 3-5 p.m., Oct. 17. The information session and discussion will address how a plan to repurpose the Tennessee Gas pipeline could impact Kentucky's waterways. From 4-5 p.m. Oct 18, Susan Seacrest, founder of Groundwater Foundation, will lead a seminar, Engaging in Place.
Everyone is invited to join an all-day stream cleanup event at Lexmark Park, which is part of a trash study involving an instream trash collection system. CATchment Cleanup, a service activity on the UK campus led by the Biosystems and Agricultural Engineering Student Branch, will cap off Water Week from 3-6 p.m. Friday, Oct. 19. Students, faculty and staff are invited to help trim, mulch and mow the rain garden on Farm Road.
Other campus partners in this year's program include the Water Professionals Student Chapter, the UK Office of Sustainability, the Colleges of Agriculture, Food and Environment; Arts and Sciences; and Engineering, and the Biosystems and Agricultural Engineering Student Branch.
More information about Water Week 2018 can be found at https://www.research.uky.edu/events/water-week-2018 or on Facebook at https://www.facebook.com/UKWaterWeek/.
---
Biosystems Ag Engineering
Environment
Events
Extension
Sustainability