UKAg students win National Forage Bowl
UKAg students win National Forage Bowl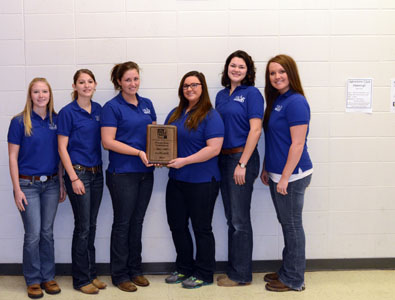 LEXINGTON, Ky.—
A team from the University of Kentucky College of Agriculture, Food and Environment won the 2014 National Forage Bowl.
The National Forage Bowl is an undergraduate quiz competition that tests students on their ability to retain and quickly recall information pertinent to forage and livestock management.
"It's very rewarding to see the students put in the effort and take the initiative to compete in and win this contest," said Ben Goff, team adviser and UK assistant professor in forage legumes.
The competition was held during the American Forage and Grassland Council's annual conference in Memphis, Tenn. This is the second time UK has produced a national champion forage bowl team. The first team earned the honor in 2010.
"This was a great team bonding experience and gave us a unique perspective on forage and animal production and management," said Veronica Bill, a UK junior majoring in equine science from Pasadena, Md.
Other team members included Elizabeth Langlois from Racine, Wis., Cecilia Purtee a senior in animal science from Portsmouth, Ohio and Meredith Tapp, a junior in animal science from Paris. The team was coached by master's student Caitlin Timberlake from Elizabethtown and doctoral student Jessica Williamson from Flintstone, Md.
"Preparing for this competition helped me better understand how grasses and soils interact," said Langlois, UK senior in animal and equine sciences.
Students qualified for the team by being members of the UK agronomy club, taking Goff's class in forage management and utilization and by showing an interest in forages.  
The students received a plaque and monetary award. Sponsorships helped pay for the cost of the team's travel and gave the students the ability to attend the conference and hear from leaders in the forage industry.
Those interested in sponsoring next year's team travel and UK students interested in joining the team should contact Goff at 859-257-5785 or ben.goff@uky.edu.
---
Awards
Crops
Equine
Livestock