University of Kentucky equine career fair: connecting students and employers in the Bluegrass
University of Kentucky equine career fair: connecting students and employers in the Bluegrass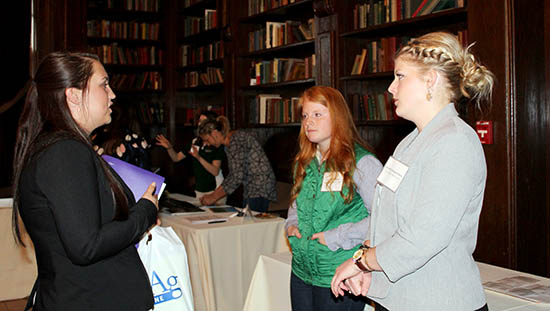 LEXINGTON, Ky.—
The University of Kentucky Ag Equine Programs will host its 10th annual UK Equine Career and Opportunity Fair from 4:30 to 7 p.m. EST March 6th at Spindletop Hall in Lexington. The fair is planned each year by students for students through a class within UK's Equine Science and Management undergraduate degree program.
This is a free event open to all college students interested in a career in the equine industry. The fair gives students the chance to meet and form connections with employers and representatives of the equine industry. It also provides them with a chance to learn more about potential internship, volunteer and employment opportunities. There will be booths with information regarding some of the equine businesses in the Bluegrass as well as informational sessions led by industry professionals.
Through the sessions, participants will explore opportunities related to veterinary professions, the Thoroughbred industry, the sport horse industry, business and communications. In addition, members from the UK Equine Alumni Affiliate Network will offer a resume and cover letter review session as well as general advice to students looking to break into the industry.
Confirmed participants include: Bourbon Lane Bloodstock, Central Kentucky Riding for Hope, CMW Architects & Engineers, Hagyard Equine Medical Institute, The Jockey Club, Kentucky Equine Education Project, Kentucky Equine Humane Center, Kentucky Equine Management Internship, Kentucky Equine Research, League of Agriculture and Equine Centers, Life Adventure Center, Maker's Mark Secretariat Center, Masterson Station, McMahon & Hill Bloodstock, McPeek Racing and Horse Races Now, Miramonte Equine, New Vocations, Rood and Riddle Equine Hospital, Spy Coast Farm, UK Ag Equine Programs, UK Equine Alumni Affiliate Network, UK Saddleseat Club, US Equestrian and Wingswept Farm.
Students and potential employers who would like more information about the UK Equine Career and Opportunity Fair may contact Jenny Evans, jenny.evans@uky.edu. There is also an event Facebook page, University of Kentucky Equine Career Fair, which provides up-to-date information.
For more information about UK Ag Equine Programs, visit http://www2.ca.uky.edu/equine/.
---
Equine
Events