Weed Showing Resistance to Popular Herbicide
Weed Showing Resistance to Popular Herbicide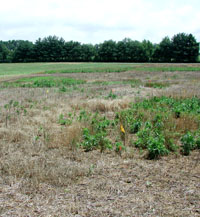 PRINCETON, Ky.—
A common weed in Kentucky, often referred to as marestail, has shown signs of resistance to glyphosate, a popular herbicide that goes under several brand names.
The problem was suspected by a Trigg County farmer and has been confirmed through field study and greenhouse testing by University of Kentucky weeds scientists, said James Martin, UK Extension weeds specialist.
Martin said glyphosate resistant marestail was first discovered two years ago in Delaware and has been found in Tennessee. But, he said there is no reason for farmers to abandon a quality product that has served them well for years and will continue to serve them well as long as they are aware that this resistant marestail could be an issue.
The Trigg County weed biotypes were stunted and the terminal bud killed with glyphosate, but the plant branches out and survives, Martin said.
"In most cases in no-till corn we feel that if you are using atrazine with a glyphosate product or with paraquat in no-till, it will take care of the problem, or a little bit of 2,4-D used ahead of planting," Martin said. "Soybeans are a bigger issue because so much glyphosate is used to eliminate weeds prior to planting and it is used again in over the top applications. What we've done is use only glyphosate in the burn down and have taken out some of the other chemistries that we used to use."
Farmers are not going to discontinue using glyphosate, but are going to have to use some other things at times, he said.
"Just a little bit of 2,4-D will go along way in controlling the weed prior to planting," he said.
But it will take some planning on the growers part, because they will have to wait seven to 30 days to plant depending on the amount of 2,4-D used, he said. Paraquat and 2,4-D can also be used. There are also postemergence products containing cloransulam that can help, Martin said.
Crop rotation can also help along with use of different chemical controls that can be used for corn but not soybeans, he said.
For most farmers glyphosate resistance is not an issue.
"The key is to be aware that it is out there and if you see a problem developing, talk with your county agent and chemical supplier," Martin said. "One good thing is that if we are dealing with this in a burn down situation and 2,4-D is the option, we couldn't ask for a cheaper solution."
Kentucky has two weed biotypes in addition to marestail that are resistant to various herbicides. Smooth pigweed is resistant to triazines and to ALS-inhibitors, and johnsongrass is resistant to ACCase inhibitors.