Wildcat Pulling Team earns national acclaim
Wildcat Pulling Team earns national acclaim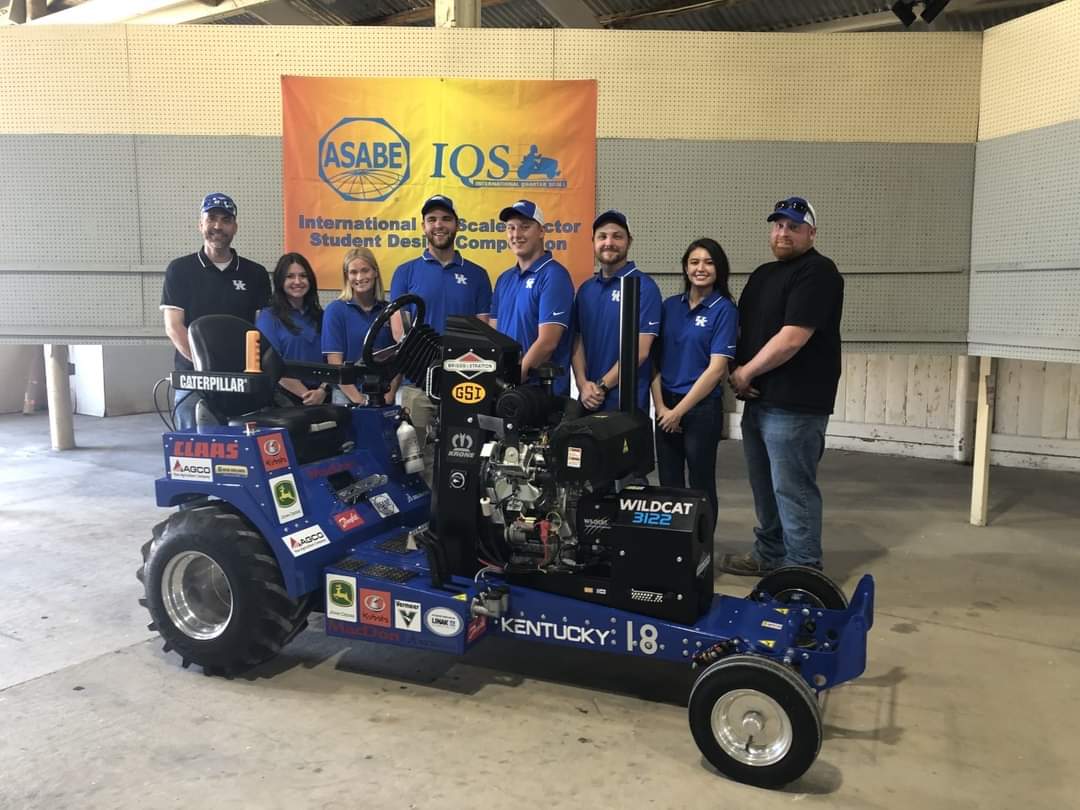 LEXINGTON, Ky.—
The University of Kentucky Wildcat Pulling Team returned to the national stage with an overall third-place outing in the 2022 American Society of Agricultural and Biological Engineers International 1/4-Scale Tractor Student Design Competition held June 2-6 in Peoria, Illinois. After a three-year hiatus, two of which were due to the COVID-19 pandemic, the team stormed back to the forefront of national prominence.   
"This means a lot to the team," said captain Mason Bradley, a senior biosystems and agricultural engineering major. "Our goal this year was just to show up and do well. We were just trying to get to the competition since we hadn't been there in a while. The fact that we were able to pull together and not just show up, but to be competitive was a really big accomplishment for us."  
The International Quarter Scale Competition, hosted by the ASABE with the support of industry partners, challenges students to go beyond simply building a tractor. Teams are evaluated in several categories including defense of design, a written design report, team presentation, design judging, technical inspection and performance. The event culminates with a tractor pull competition, an area in which the Wildcat Pulling Team historically has excelled.  
"There are a lot of factors we have to be judged on," said John Wesche, recent biosystems and agricultural engineering graduate. "We have to design a new tractor every year, so there is a lot that goes into this. It is not an easy contest to compete in. That just makes it really special that we were able to achieve this."  
Since 2001, the Wildcat Pulling Team has placed in the top three 14 times, coming in either first or second seven of those times, but the road to this year's impressive finish wasn't without its share of bumps.  
"Just about everything that could break while traveling and during the competition broke," said Mike Sama, associate biosystems and agricultural engineering professor and club advisor. "Testing the day before we left for Peoria revealed we were having engine issues. We decide to swap out the engine with a new one the morning of our trip. And then on the road, our trailer suffered two flat tires."  
Once the team arrived, they found that the fuel pump on the tractor engine had dried and wouldn't prime. Later, the engine disconnect coupling separated and shredded an internal component. During maneuverability testing, they lost reverse on the transaxle. Prior to the durability competition, they incurred problems with the tractor's wheelie bars and then the engine fan cover shredded a loose data communication cable.   
"We really did overcome a lot to get where we did," Sama said. "This just goes to show how much can go wrong and how hard the team worked to overcome obstacles while under tremendous pressure. I have no doubt they learned a lot in such a short time." 
---
Biosystems Ag Engineering