Wood center helps East Kentucky entrepreneurs pursue dream
Wood center helps East Kentucky entrepreneurs pursue dream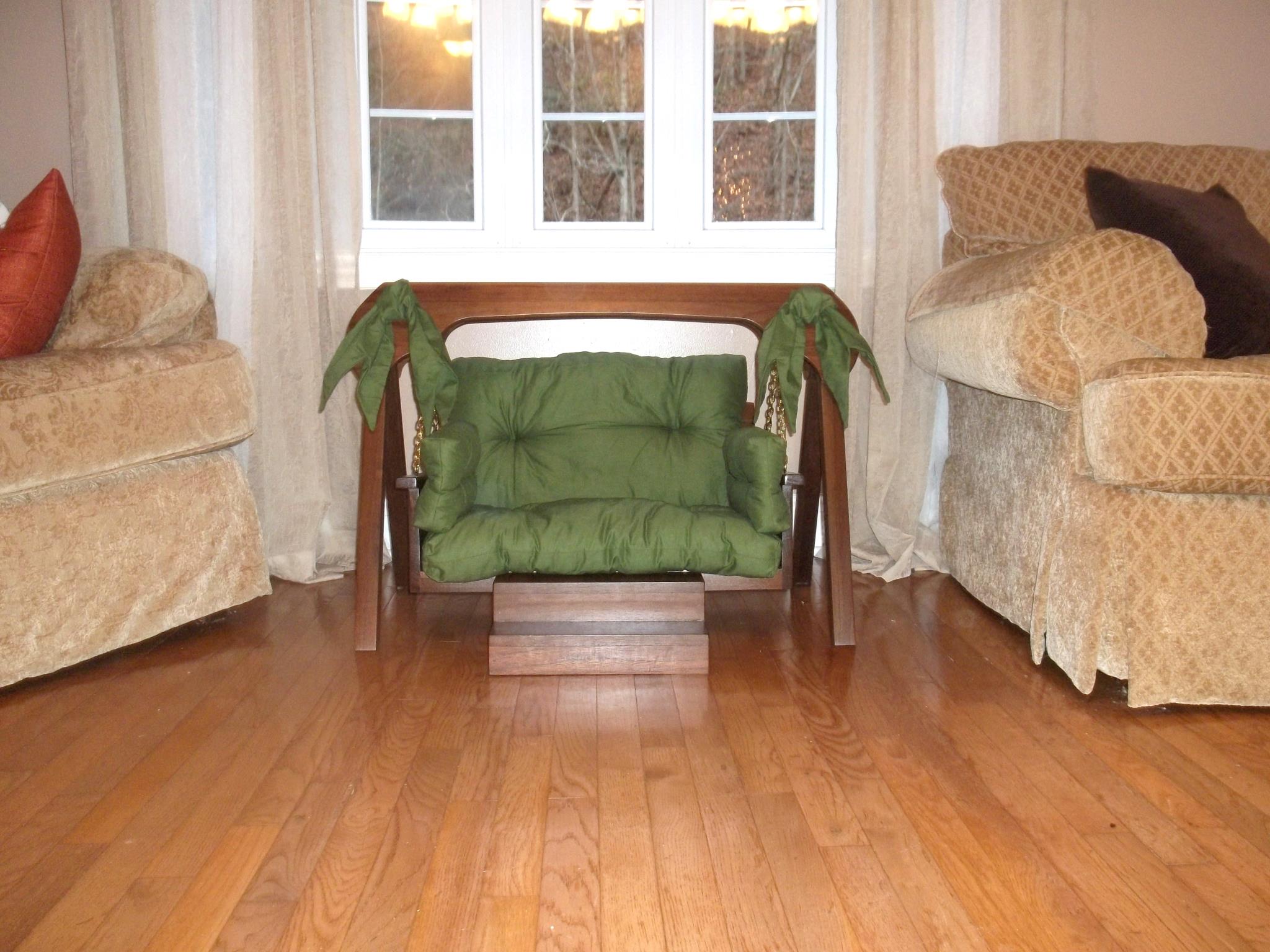 QUICKSAND, Ky.—
Like many folks, Tony and Djuana VanDine dote on their pets. They realized that the dogs enjoy human furniture and thought it might be fun to design a piece of dog-sized furniture that looked like a porch swing. At the time, the Pike County couple didn't think it would go much further than that. But now they are well on the way to marketing their Pet Swing to the masses, thanks in part to the University of Kentucky's Robinson Center for Appalachian Resource Sustainability.
"We built a small swing out of PVC pipe and other materials we had," Tony said. "The dogs go straight to it, and they just love it. Before we came here (UK) we actually took our prototype to someone in Inez. They built a wooden swing. We had the opportunity to go to an inventor's show in Pittsburgh. The little swing impressed so many people there, and they loved it."
Tony said they decided to partner with UK's RCARS and wood products entrepreneur John Marcum, of Cherry Ridge Wood Products, because they thought that team could make the product look professional and get the best start possible with very little start-up costs.
"You know we've always been blessed in this part of Eastern Kentucky to have this wonderful wood center and all this great equipment," said Bobby Ammerman, extension associate at RCARS for the UK Department of Forestry. "We're always looking for opportunities to get more use out of it. We had this idea to start bringing in entrepreneurs and maybe help them build prototypes and use our equipment."
Ammerman said inventors' limited resources often keep a product from taking off; that's part of the goal for the wood center—to keep costs down so that entrepreneurs can succeed and possibly employ Kentuckians in their businesses.
"We'd worked with a few other entrepreneurs, and then one of them brought in the VanDines, and their idea had already seen some success," Ammerman said. "From there we have developed it and made some design changes to ease manufacturability. Now John Marcum is building 100 of them for the initial order."
Djuana said they did a lot of research before they seriously began trying to get a patent on the Pet Swing and found out there was nothing else out there on the market like it. She said working with Marcum and Ammerman and others at the wood center has made things much easier.
Marcum has worked on projects with the wood center before and was eager to help the VanDines. He said he's even been able to hire some local people on a temporary basis to help.
"The product could really take hold; that could create some permanent jobs, and that would be a great thing," he said. "The wood center has provided tutelage for this whole project. They've offered design and manufacturing help. It's one thing to build one thing from wood… then quite another when you begin to manufacture multiple units of one item."
Marcum previously worked for a wood products company that ended up laying off many workers, which propelled him into entrepreneurship and eventually led to the partnership with the wood center.
The VanDines entered the Pet Swing into the Next Big Zing competition and won in the pet category, potentially setting the product up for inclusion in the 2012 edition of SkyMall magazine, which is placed in the pocket of most commercial airline seats.
RCARS director David Ditsch said the center points Eastern Kentucky in the direction of using the region's natural resources in a sustainable way to create sustainable jobs.
"We've put together resources and people with expertise in wood and technology and the result is a unique product that uses all that in one package," he said. "We want to extend this model to other things we do at RCARS including horticulture, food and nutrition."
Ditsch said they hope to find other folks in the region with unique interests and abilities and mentor them using all the resources of the center and the UK College of Agriculture such as business management, economics and marketing.
With 70 to 80 percent of the region's land covered in trees, Ammerman said using those resources in a sustainable way will help everyone in the chain from the landowner, the wood industry professionals and entrepreneurs to the end users.
Ammerman said the Kentucky forest products industry has 766 active industries directly employing more than 20,000 individuals. The UK wood center provides training programs and direct support to all of these industries—many of which have grown from a start-up family business like those of the VanDines and Marcum.
"Together these family-owned businesses have become the backbone for a large and vibrant industry for Kentucky," he added.
For more information about RCARS, visit the website at http://www.ca.uky.edu/rcars. For more information about the Pet Swing, visit http://www.petswing.com.
---
Community Development
Forestry
Sustainability