Workshop empowers teens to create podcasts
Workshop empowers teens to create podcasts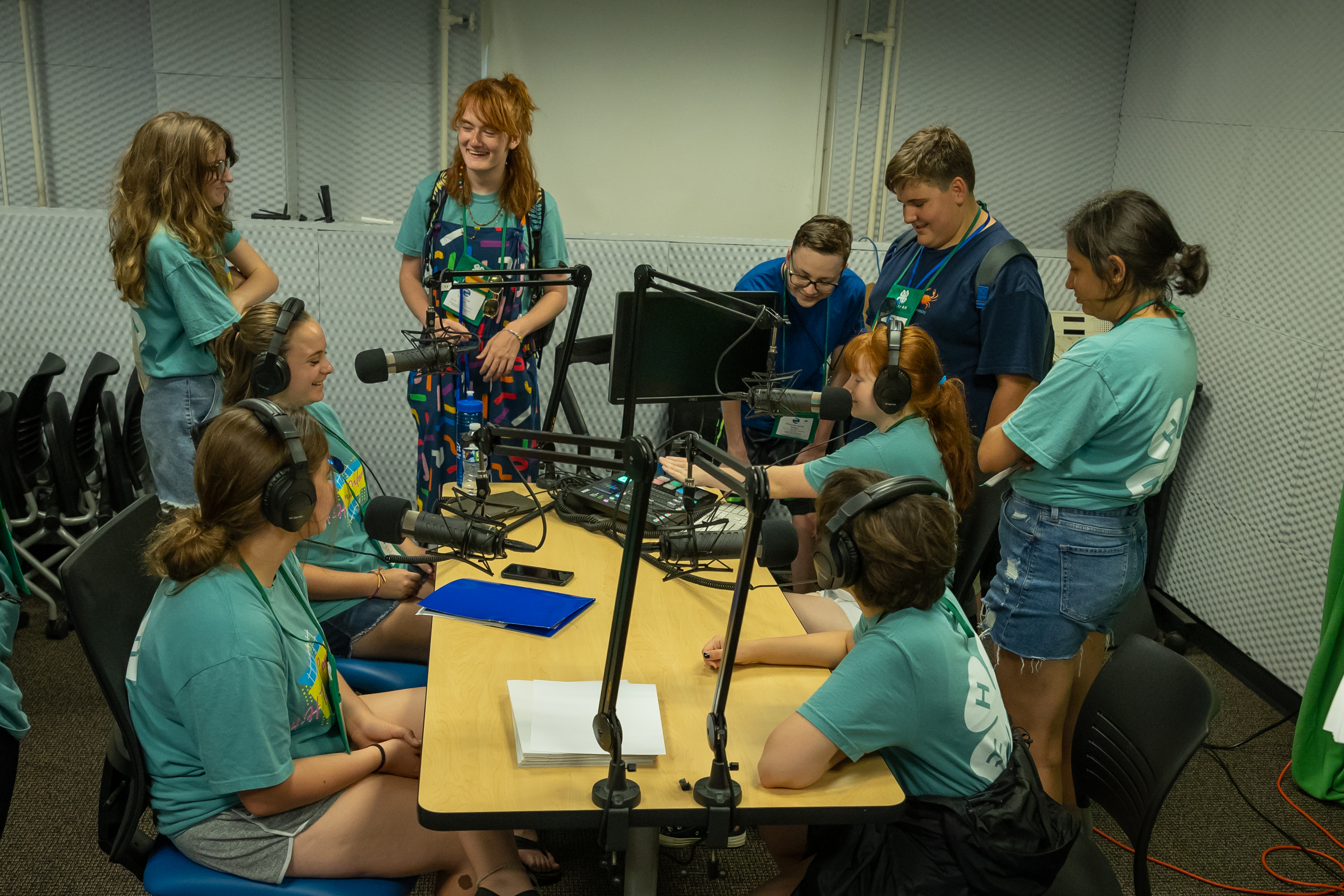 LEXINGTON, Ky.—
A quick internet search reveals the podcast industry's popularity. With more than 2 million podcasts in the United States, a large percentage from users under age 24, Spotify's Culture Next Report explains that Gen Z is  revolutionizing the relationship between audio creators and their fans, especially in the podcast space. Recently Kentucky 4-Hers attending the organization's annual Teen Conference on the University of Kentucky campus in Lexington received hands-on instruction and tools to create their own content and enter this growing field.
UK College of Agriculture, Food and Environment associate professor Nicole Breazeale said the inspiration for the workshop came from recent UK graduate Haley Simpkins. Simpkins graduated with a bachelor's in journalism and a minor in UK CAFE's community and leadership development.
"Haley wanted to develop a podcast that lifted up the voices of Eastern Kentucky youth to document what it means to be from Appalachia and how that identity intersects with other identities," Breazeale said. "With guidance from an advisory council, Haley developed and began recording episodes of the 'Young'uns' podcast that will be released later this summer."
Breazeale said from that effort, she developed a two-day workshop on digital storytelling and podcasting for Kentucky 4-H Teen Conference. She said storytelling is one of the most powerful tools community developers have.
"Through this workshop we hope to empower more Kentucky residents to be able to tell the stories of their communities," Breazeale said.
Another recent UK graduate, Julia Price, facilitated the workshop. Throughout her senior year, Price co-hosted and produced the Bowman's Friends podcast for the UK Smart Campus Initiative.
Through the workshop, Price guided the participants to produce a two-minute podcast pitch based on their own passions and interests.  Students learned how to organize their episode ideas and how to edit their recordings, and they went home with tools to create a full episode.
"Within our limited time, the students are not going to learn to be podcast experts, but they will have knowledge of the technology they will need to create a podcast," Price said. "There are so many free tools that people can use to create—free music, free editing software, free distribution and so on."
Price was surprised by the students' ideas and their willingness to confidently pitch them. Divinity Munson is a 4-Her and a homeschool student from Oldham County. She came into the workshop with a love for storytelling, music production and a desire to create her own podcast aimed at teens.
"A lot of times, I think as teens we get stereotyped that we don't understand what we are talking about," Munson said. "But we do have an understanding and a voice. We want to show adults what we believe and that we are capable of thinking and talking about hard subjects."
Munson said her involvement in speech and debate generated many friends who have similar opinions similar to her own, but for her podcast, she also wants to attract individuals who don't agree with her, to develop a full conversation about topics.
"I feel like the media is very biased and I don't want to be like that," she said. "I want to actually give facts and talk about how people feel."
Breazeale said in addition to the workshop, she, Price and Simpkins are also developing a curriculum for Cooperative Extension agents to use around each episode of "Young'Uns," the podcast that springboarded the workshop.
"We can't wait to see what else comes out of all the energy and excitement the workshop generated," Breazeale said.
---
4 H Youth
Community Development