Workshop to offer information on organic corn production
Workshop to offer information on organic corn production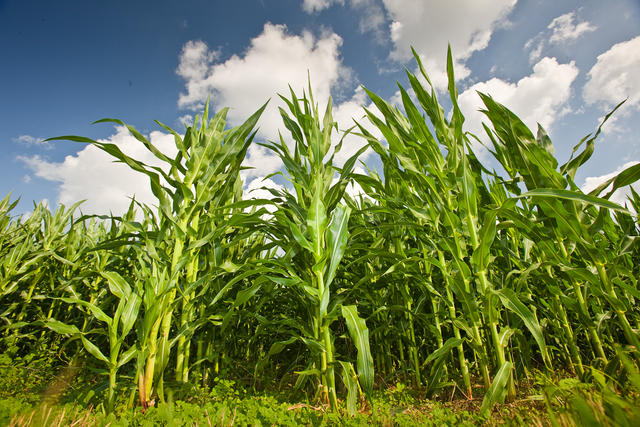 With the price of corn around $7 per bushel, it may be surprising that there could be a more profitable alternative. But, with the price of certified organic corn in mid-December averaging $14.30 per bushel, producing certified organic corn deserves a good look.
"Many farmers are not aware of the significant price premium for organically produced corn," said Lee Meyer, agricultural economist for the University of Kentucky College of Agriculture. "Prices typically are 1.5 to two times the price of conventionally produced corn. Farmers who do know about the premium often are not knowledgeable about organic corn markets, production systems and certification rules."
To help provide grain farmers with the science-based information they need to decide if the organic corn enterprise is a good alternative for them, the University of Kentucky Cooperative Extension Service, in cooperation with Kentucky Corn Growers Association and Organic Valley Cooperative, is conducting a daylong workshop Jan. 16 in Bowling Green. The workshop is at the Warren County Cooperative Extension office, 3132 Nashville Rd, and begins at 9 a.m., CST.
Meyer said the workshop is part of an effort to help Kentucky farmers assess opportunities for organic crop production. Researchers in neighboring states found that, after a transition, organic corn yields are very close to yields of conventionally produced corn and may even be better in drought years.
"They also found that the market is growing, being driven by the expansion of feed markets supplying organic dairy, egg and meat production," Meyer added.
Production challenges include the need for crop rotations, nutrient management, weed control and the certification process.
"Organic cropping systems typically use five- to seven-year rotations instead of the two- to three-year rotations more common in regular cropping," Meyer said. "Weed control can be a concern, since organic rules do not allow the herbicides common in conventional systems. The rotations help reduce weed pressure and cultivation is the alternative to spraying."
The Jan. 16 workshop includes presentations from experienced farmers and educational sessions on organic certification, fertility management, weed management, marketing, economics and profitability. There is a $10 registration fee to cover the cost of materials and lunch. Farmers can register by email to Will Martin at William.martin24@uky.edu or by contacting their local Cooperative Extension office.
The workshop is only one part of an effort to help Kentucky farmers evaluate this potential enterprise. Kentucky extension specialists received a grant from the U.S. Department of Agriculture Sustainable Agriculture Research and Education program to provide educational support for farmers. Grant funds are supporting research, on-farm demonstrations in Kentucky and the workshop.  Because there is so little certified organic corn currently being grown in Kentucky, Meyer believes these demonstration farms will serve an important role.
"They will help extension specialists develop a set of best practices and will provide an opportunity for Kentucky farmers to learn about this new opportunity from their neighbors," he said.
---
Crops
Events
Extension
Sustainability